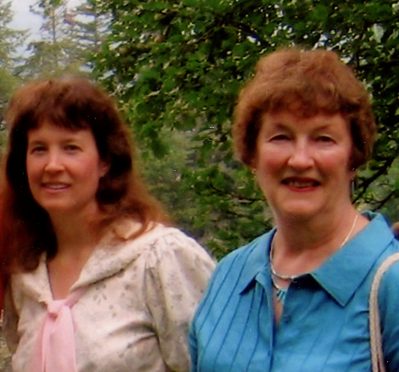 Laura Hobbs' mother was diagnosed with breast cancer at the age of 48, and over the next 19 years would survive two more recurrences. Watching her mom's experience made Laura extra conscientious about having her annual mammograms.
An advanced screening
That conscientiousness is what led her to ask for an additional ultrasound screening in 2020 because a friend had told her that sometimes women with dense breast tissue need more advanced screenings to detect breast cancer. Despite having a clear mammogram and clear breast exam by her doctor in late 2019, Hobbs went ahead and scheduled the ultrasound.
Delayed by COVID, she had the test in mid-June 2020. The results were abnormal, and a biopsy was scheduled right before the Fourth of July holiday.
> Schedule an appointment with an expert
The results
"I remember going for a walk with a friend over the holiday weekend, and I told her, 'I know I have cancer,'" said Hobbs, who works as a clinical pharmacy specialist at Hartford Hospital and directs the pharmacy residency program there. "It was the same side as my mom. I just had this feeling."
She was right. At the age of 57, she had breast cancer.
"I can still remember receiving the call from the radiologist explaining the pathology report that showed ductal carcinoma in situ (DCIS) which is the same type of breast cancer my mother had her third time," Hobbs said. "I contacted the breast cancer nurse navigator at Hartford Hospital, and she helped me schedule an appointment with Leah Bassin, MD, the same breast surgeon my friend used, for only two days later. Given my family history the surgeon recommended genetic testing, for which I had blood drawn later that day."
The blood test showed it was not genetic, but an MRI revealed more extensive cancer than the ultrasound had shown. Instead of being a tumor in a more typical lump, Hobbs' cancer was in a duct, long and thin, about 5 centimeters.
> Want more health news? Text StartHere to 85209 to sign up for text alerts
Coming up with a plan
"The goal of cancer surgery is to remove all of the cancer, with normal tissue all the way around it. We don't want to leave any cancer behind," said Bassin, a breast surgeon with the Hartford HealthCare Cancer Institute Breast Program. "Sometimes we can do lumpectomies, which is just removing a small part of the breast tissue with the cancer in the middle, versus the mastectomy, which is removing the whole breast."
"Unfortunately for Laura, with the amount of cancer we saw on the MRI, a lumpectomy would've been really difficult. It would've left her breast looking very misshapen. So we recommended having a mastectomy."
After meeting with Bassin and hearing her options, Hobbs decided to have a double mastectomy with no breast reconstruction. Even though her cancer was only in her right breast, she wanted to have both removed.
> Related: Cancer, Including Breast Cancer, Among Those Under 50 Is Rising Dramatically
Why both?
"My mother's experience informed my decision," she said. "Do I want to go through this again? And once I heard what the surgeon said about the shape of the cancer, I'm thinking, what would even be left?"
She did not make this decision lightly. "I cried for hours. My close friends who have had breast cancer walked and talked with me. I met with the plastic surgeon to learn about reconstruction. And remember, we were still deep in COVID. Did I want all those multiple visits to hospitals and doctors? A bilateral mastectomy would minimize any future risk and I didn't want to be uneven."
Opting for the removal of both breasts even though one has no cancer is not unusual," Bassin noted. "It can help lower the risk in the future. It does offer peace of mind. For me, your anxiety about what are we going to find next, am I going to have to go through this again, that's something that is important to take into account."
And it is becoming more common for women to choose not to have breast reconstruction, Bassin said.
"There's a larger group of women who are not doing reconstruction," she said. "Our breasts are not what defines us, and for someone who doesn't want reconstruction, we do have options. We leave it as flat as possible, so you can wear prostheses if you want, but you don't have to. You have full range of motion, you can do any and all activities, and it is a faster recovery for a lot of patients."
Laura's message
Hobbs' life is back to normal with work, her family, her life. "Sometimes things come up that remind me that I had cancer," she said. Her message to others is to get a screening. "I have gotten screenings every year since I was 30," she said. "No one felt anything. Make sure you are informed and get what you need."
---