Ann Micacci is a 53-year-old real estate agent who lives in Southington with her husband and three children. She has no family history of cancer, no genetic markers for cancer. She doesn't drink or smoke, eats healthy foods and exercises. She could be the poster girl for someone who thinks, "I don't need to have an annual mammogram. I'm not at risk for breast cancer."
And yet…
Ann's mammogram in June 2021 showed some microcalcifications in her left breast. The radiologist ordered more images, and after that Ann had a biopsy and an MRI of her full chest before meeting with Camelia Lawrence, MD, FACS, a breast surgeon with the Hartford HealthCare Cancer Institute, which is the charter member of the Memorial Sloan Kettering Cancer Alliance.
"At the appointment with Dr. Lawrence, the radiologist said, 'So we are talking about the right breast,' and Dr. Lawrence said 'No, it's the left breast.'" Ann recalled. "Well, thank God for radiologists, because there were cells in my right breast as well."
Ann was diagnosed with ductal carcinoma in situ (DCIS) in her left breast, also known as stage 0 breast cancer. In her right breast she was diagnosed with atypical hyperplasia, a precancerous condition that affects cells in the breast.
Ann had a lumpectomy in her right breast, and in her left breast, the pre-cancerous cells were removed in a procedure called an excision.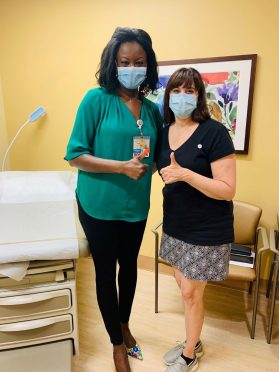 Four weeks of radiation on her left breast completed her course of treatment. Ann will take anastrozole, an anti-estrogen medication, for five years.
"When you first get that diagnosis, that you have cancer, it's scary," Ann said. "My kids are older, I have two in college and one in high school, but they still need you. When all this started, I showed Dr. Lawrence a picture of my kids and I said, 'This is what I'm fighting for.' "
Even with no history or risk factor for cancer, Ann was always sure to schedule her mammogram every year. The scan she had in 2020 was clear, and then in 2021, the red flags were raised.
"It was something I always did because I always follow good health practices," she said. "It was never a question for me, I just always got my mammogram."
Dr. Lawrence said the majority of women – 75 to 80 percent – diagnosed with breast cancer have no family history or risk factors.
"Until we can identify a cure for breast cancer, early detection is the key," the doctor said. "Ann was meticulous about having her mammograms, and so we caught her cancer at the earliest possible stage. She has an excellent prognosis. But the majority of patients I see are not Ann. They are at a more advanced stage."
Ann is now vocal with her female friends about their need to have an annual mammogram. One friend mentioned that her mammogram was canceled early in 2020 because of COVID, and she had never gotten around to rescheduling it.
"I said, 'You have to go,' and I wouldn't stop," Ann said. "So she finally scheduled one and she had cancer! She had a double mastectomy."
"Cancer doesn't discriminate," she said. "You have to get your mammogram. If it saves your life, it's worth it, right?"
---