Paul Prignano, 66, of West Hartford, is active for his age and wanted to stay that way.
"At least two years ago, I felt some pain in my right ankle, I thought it was a sprain, but the pain was getting progressively worse," he said. He was recommended to the Bone & Joint Institute, where he saw Thomas McDonald, MD, an orthopedic surgeon who specializes in foot and ankle surgery.
"He told me it was Stage 4 arthritis, from cumulative trauma and injuries, and he could see (through imaging) it was bone-on-bone. He said I was the perfect candidate for total ankle replacement and I actually said 'you can do that?'"
Prignano had played baseball in high school and college and played basketball and racquetball recreationally, and had sprained his ankle numerous times. "It heals, but I didn't realize it was stretching out the tendons and ligaments, which weakens it and causes long-term damage."
Dr. McDonald said many people may not be aware of the option of total ankle replacement.
"The incidence of ankle arthritis is low compared to knee or hip arthritis, which is more commonly caused by osteoarthritis or rheumatoid arthritis. Ankle arthritis is usually more trauma-based, from a slip or high-impact injury, only about 10 percent of cases are from primary osteoarthritis," Dr. McDonald said.
Although total ankle surgery has been around since the 1970s, the first-generation implants didn't perform well. There have been a lot of improvements in the procedure since then, Dr. McDonald explained. He said the second and third generation of the prothesis were much better, with improved mechanics of the joint. Implant design is now in its fourth generation, with improved materials, design characteristics and sizing options. Instrumentation which is custom made to match the patient's specific anatomy is also a crucial development.
"We are still raising awareness that this option has come as far as it has," he said. "Total ankle has been very successful for the last 15 to 20 years, versus 50 years for hip and knee replacement."
The ankle joint is a much smaller surface area, with resurfacing the end of the tibia and the talus bone in the ankle. Dr. McDonald said the big difference in the ankle procedure is that the soft tissue is complex and in close proximity, so the surgery often involves tightening up and balancing the ligaments to make sure there isn't instability around the ankle.
"I am totally thrilled I did it," said Prignano "It has given me a fresh start. I had the surgery in February and in April I was back out on the golf course. My wife likes to hike, we have been able to do that together."
---
Diane Hart, 64, had broken her ankle more than 35 years ago, but it had recently become very painful for her to walk. She had heard of the total ankle procedure but had been told it wasn't recommended for her. However, when she consulted with Dr. McDonald he let her know he was confident in the procedure and put her more at ease.
After having the surgery in March of 2021, she didn't put weight on her ankle for about 11 weeks, and then she did physical therapy for about eight weeks and extended it for another session. She said the physical therapy helped with mobility, stabilization, strengthening and balance.
"I actually have more flexibility and more range of motion than I had before," she said.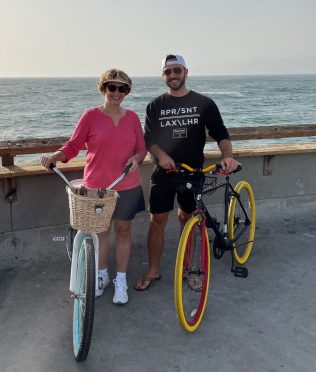 She has been hiking in Joshua Tree, climbing on the uneven rock formations, and recently went to Israel for a tour of the Holy Lands. "The terrain was extremely rocky, with lots of stairs," she said. "I was fine, able to walk five to seven miles a day with no problems at all."
She said she and her husband plan to hike in Zion National Park and the Grand Canyon in September.
"I have been given back my quality of life, it feels so good to have my life back again and be active," she said.
Dr. McDonald said it can be a difficult recovery, because there is a period of three to six weeks when you can't put any weight on the ankle. He said the office does a pre-operative mobility assessment, to have patients practice on crutches or knee scooters ahead of time to make sure they are comfortable with it.
Dr. McDonald said at about six to eight weeks patients can sense if the arthritis joint pain is gone.
"People are often concerned about pain because they remember the pain from the trauma itself. To their relief, most patients tell me they have very little pain with this procedure," Dr. McDonald said.
In the past the gold standard was ankle fusion – or biologically welding the joint together – which offers less mobility and flexibility than a replacement. The other advantage with replacement is it shields adjacent joints from extra stress or strain they might suffer from a fusion.
If there is a stiff pattern of arthritis, mobility won't be back to normal, but if the joint was more mobile to begin with, there will be more motion and less pain.
---