In a winner-take-all endurance test, which is stronger: metal or human bone?
Surprise: If it's a metal alloy knee or hip replacement vs. the original human bone, take the bone. That goes for polyethylene, ceramic and any other material paired with metal in an artificial joint, too. No combination will last longer than the bone it replaced.
"We always want people to let their natural joints last as long as they can," says Dr. Mark Shekhman, an orthopedic surgeon at the Bone & Joint Institute, "because it's better to have these surgeries when they're older than when they're younger. We want to reduce the number of surgeries they'll need in their lifetime. It makes sense: An older person will need less surgeries."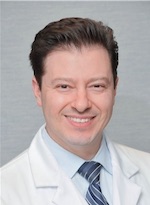 A growing number of people — more than 7 million in the United States have an artificial knee or hip, according to the American Academy of Orthopaedic Surgeons – know bone doesn't last forever, either. So what to expect from an artificial joint? In an analysis of cases with 15 years of follow-up published in February in The Lancet, a peer-reviewed general medical journal, 82 percent of total knee prosthetics and 58 percent of total hip prosthetics lasted at least 25 years.
The average age for either a total knee or hip replacement continues to range in the mid-60s. With advancements in replacement technology, a patient has improved odds of a getting a prosthetic that will last a lifetime. Some patients need only a partial replacement: In a uni-knee (partial) replacement, your doctor will only replace worn-out parts.
When, or if, an artificial implant fails typically depends on a patient's age, weight, health and lifestyle. If you've had a knee or hip replacement before age 50, you will almost certainly outlast the artificial joint based on the implant's life expectancy.
Osteoarthritis, a degenerative disease, is the leading cause of knee and hip replacements. When protective tissue (cartilage) breaks down, it leaves painful bone-on-bone rubbing in the knee or hip – more friction, less glide. Osteoarthritis, typically a byproduct of aging, makes it difficult to walk, climb stairs or perform other once-routine tasks, and reduces your ability to remain active and healthy.
Even when a joint replacement last decades, it still might not be long enough. Under what circumstances would you need revision surgery? It's usually fractures of the joint or prosthetic due to accidents, weakening of the soft tissue surrounding the joint or an unhealthy lifestyle (smoking, obesity, diabetes and poor nutrition) that increases the chances of infection.
Revision surgery, which replaces a failed replacement, is much more complex than the original surgery,  requiring a higher level of surgical expertise, tools and planning. A total knee replacement revision, says Dr. Shekhman, can take 4-6 hours compared to 1-2 hours for the original surgery.
Most hospitals in Connecticut do not perform revision surgery, often referring cases to the Bone & Joint Institute or other tertiary-care hospital.
Joint replacement surgery, and implants, have come a long way since the first attempts in the late 1800s using ivory prosthetics. Today, "the most reliable and common of bearing surfaces is cobalt chrome or ceramic against a polyethylene liner," says Dr. Shekhman. "Polyethylene is a very resilient, long-lasting and smooth plastic that the metallic part of the component will rub against. The goal is to keep things sliding smoothly."
What you can do to prolong the life of your knee or hip replacement:
Enjoy smooth-motion activities, such as walking, swimming and bicycling.
Sports that require jumping are not recommended.
Maintain a healthy weight and diet: A body mass index of 40 or higher dramatically increases the risk of complications. Each pound is equal to 3 pounds of pressure on your knee joint.
If you're considering joint replacement surgery, talk to your doctor about the type of surgery, the best implant and how to improve the probability of a long-lasting joint replacement. For more information on hip and knee joint replacements at the Bone & Joint Institute, click here.
---