When your spouse dies, your world changes. When you're grieving you often have a slew of reasons for taking shortcuts, disengaging, and withdrawing socially and emotionally. Laura Galer lost her husband of 33 years in June 2021 and turned to running to cope with the grief.
"After losing my husband, I told myself that I had to get active," she said. "I couldn't just sit there and wallow — which I did for a couple weeks. If you don't become active, connect with friends and do something you won't get better quickly. I don't think I would have felt better as soon as I did."
The Warm-Up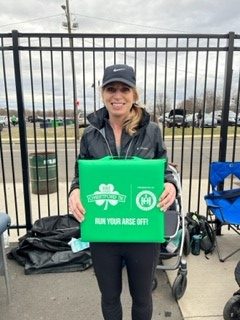 "I started running stop sign to stop sign. It was hard — it took months to run a mile and eventually I got to 2 miles, but I wasn't very fast," she said. "My body wasn't like I was when I was in high school, I ran well back then."
Galer found a new passion for running and joined women's running group. The group of women, who helped motivate each other, decided they would run a 5K race monthly to encourage them to work even harder. Since she has started running, she has completed four races.
A Bump in the Road
Unfortunately, Laura had a setback in late September 2021. She misjudged the height of a curb, injuring her leg.
"I was concerned when I woke up the next morning limping," said Galer.
She took the next three weeks off from running and continued to walk so she didn't stay sedentary.
"I didn't want to lose everything I achieved because of my injury," she said.
The Training
Galer's doctor referred her to Hartford HealthCare's Bone & Joint Institute, where she was diagnosed with hip tendonitis. Galer worked with Stefanie Bourassa, Sports Medicine Program Manager, in a physical therapy rehabilitation program and also completed a running analysis at the Motion Analysis Lab to identify and correct tendencies that might result in another injury.
"I am grateful to have met Stefanie and get the treatment and advice she gave me," said Galer. "I think without asking for assistance, I wouldn't have gotten this far. If you want to be active and enjoy these sports, I learned you have to train the right way in order to do and enjoy them."
Going the Extra Mile
What started as an outlet for grief had turned into a new passion for running. Since that first start, stop sign to stop sign, Galer has increased her distance and can now run five miles. She is training toward the BankNewport 10 Miler in June.
It doesn't stop there – Galer now has her sights set on the BikeMS: Cape Cod, the largest Bike MS event in New England. She shared that her friend talked her into it. "My friends call me the 'yes lady,' everything that is difficult — I will say yes to." This cycling challenge is an ambitious one, considering she didn't even have a road bike and is now training for this event.
Galer is living proof that whether you're training for sport or training for life, your performance is about more than medicine — it's the health of your whole body and mind working together can take you to the next level.
---