At only 22 years old, accomplished skier Mercedese "Ellie" Large was forced to find a new passion after tearing her ACL in a college lacrosse game.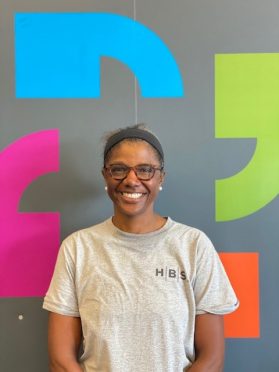 With her recent change in physical capabilities, she found that golf was the right pace for her. "Bigger, stronger, faster doesn't make you successful in golf," she said. "It's really about mastering precision and understanding what your body can do."
In 2021, the pain in Ellie's knee started getting worse. She met with an orthopedist, and explained her fears of a knee replacement given her history of ACL reconstruction and worsening left knee pain due to advancing osteoarthritis. Luckily, a knee replacement wasn't needed and she was referred to Hartford HealthCare's Bone & Joint Institute for physical therapy.
At the Bone & Joint Institute, Ellie worked with physical therapists to improve how she moved athletically and her overall strength, flexibility, mobility and agility. The therapists referred her to Jeffrey LaVallee, MD, to discuss non-surgical options for her chronic left knee pain. Dr. LaVallee ordered an MRI of her knee, which showed areas of degenerative changes, mostly in the medial compartment of her knee and medial meniscus.
In lieu of a knee replacement, Dr. LaVallee discussed a long-term plan to rehabilitate her knee through ultrasound guided platelet rich plasma (PRP), prolotherapy and hyaluronic acid injections combined with physical therapy. Prolotherapy is a treatment for both muscle and joint pain and involves repeated injections into part of a joint, or a supporting tendon or ligament.
"Essentially the goal of PRP and prolotherapy injections are to help reduce pain by changing the biochemical environment in an arthritic joint, degenerated tendon or ligament to favor growth and repair through growth factors," said LaVallee. "There is no 'magic' injection, but with repeated treatments some of the painful tissues can become healthier, less painful and ultimately help a painful joint or tendon become fully functional again."
Good nutrition and guided physical therapy can also help strengthen the tissue, and be a successful means of managing chronic orthopedic conditions.
Ellie is the ideal patient, which is important when determining candidates for PRP and injection therapy.
"She is healthy, physically fit and motivated," explained LaVallee. Although it's appealing to many candidates because of its low associated risk, PRP is most effective for young, healthy patients with mild to moderate degenerative conditions.
Ellie, a lifelong athlete with hopes of continuing those pursuits, was thankful for the group of health experts surrounding her that listened, understood, and helped streamline her experience.
"What impressed me was the connections made with the entire Hartford HealthCare team, not just the physical therapists," she said.
Ellie has some advice for anyone dealing with similar pain: "You certainly don't want to pretend it's not there."
---