On May 12, the Hartford HealthCare Heart & Vascular Institute at Hartford Hospital performed its 2,000th successful Transcatheter Aortic Valve Replacement (TAVR). Hartford Hospital, which has been performing the minimally invasive procedure since 2012, is the first center in the state to achieve this milestone.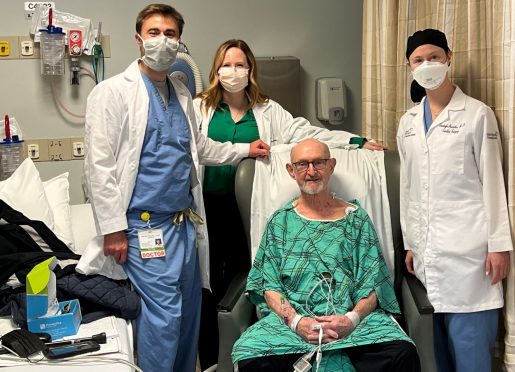 "Congratulations to our cardiac surgery and structural heart teams for achieving this major milestone," said Harford Region President Bimal Patel. "Their skill and commitment to excellence is one reason why Hartford Hospital continues to be one of the top hospitals in the country for cardiac care and surgery."
Transcatheter Aortic Valve Replacement, or TAVR, is a minimally invasive procedure to repair a damaged heart valve by inserting a replacement without removing the old, damaged one.
"TAVR has transformed the way we take care of patients with aortic stenosis. We have done it well because of the excellent collaboration between cardiac surgeons and cardiologists, as well as the hard work, skill and dedication of all the providers involved with our TAVR program. I can't wait to see how we will evolve and become even better," said Robert Hagberg, MD, chief of cardiac surgery at Hartford Hospital.
TAVR is performed on patients with aortic stenosis. It is now approved by the FDA for most patients, regardless of their surgical risk. All patients are carefully evaluated by a Heart Team — comprised of interventional cardiologists, cardiothoracic surgeons, imaging specialists, advanced practitioners and nurses — to see if they are candidates for traditional surgical aortic valve replacement or if TAVR would be the best treatment option.
"This milestone represents hard work from the entire multidisciplinary structural heart team that works together day and night to deliver timely and efficient care. This helps us achieve excellent clinical outcomes for our patients," said Jawad Haider, MD, FACC, RPVI, co-director of the Structural Heart Program. "This achievement is backed up by our recognition as the only hospital in the state of Connecticut designated as a High Performing Hospital for TAVR in U.S. News & World Report this year."
TAVR is an alternative to open-heart surgery. And, because it's less invasive than traditional surgery, patients recover more quickly and, on average, they go home after one to two days in the hospital.
---