Method Helps Patients with Aortic Valve Disease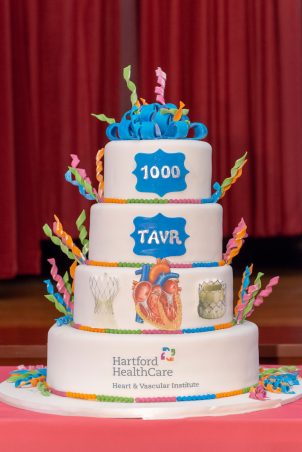 On April 5, Hartford Hospital's structural heart team celebrated its 1,000th Transcatheter Aortic Valve Replacement (TAVR), an achievement reached in January of this year.
"It is an honor to celebrate this achievement with our teams and the entire Heart & Vascular Institute," said Bimal Patel, president of Hartford Hospital. "We have become a destination center for TAVR, and this would not have been possible without the leadership of our physicians, nurses and techs."
TAVR is designed to treat aortic valve disease, a common condition that develops as people get older. With aortic valve disease, "the heart is pumping blood through a pinhole," according to Dr. Francis Kiernan, co-director of Hartford Hospital's Structural Heart Program. "That puts significant strain on the heart muscle."
The TAVR procedure was originally developed to help patients with significant risk of complications by inserting a stent that pushes the old valve out of the way and puts a new valve in its place.
"We're not just celebrating our 1,000 TAVR," said Dr. Sabet Hashim, co-physician-in-chief of the Hartford HealthCare Heart & Vascular Institute, "we're celebrating 1,000 patients and their families. The valve works, it lasts and it's durable—meaning each person gets many years living with it alongside their loved ones."
Many TAVR recipients attended the celebration, including one person celebrating another special occasion that same day. Dr. George Paul, the eighth person to receive the TAVR procedure at Hartford Hospital in 2012, was there on his 100th birthday, according to Lauren Curtis, APRN, manager of the Structural Heart Program.
Hartford Hospital physicians have served as principle investigators in several national trials documenting the safety and efficacy of TAVR, leading to the FDA's approval for the procedure in extreme-risk, high-risk and intermediate-risk patients.
"When this program was initiated in 2012, we challenged ourselves to be leaders in innovation for the benefit of our patients," said Jeffrey A. Flaks, president and chief operating officer of Hartford HealthCare. "This is a moment of celebration because we are saving and extending people's lives. This community deserves this program."
Dr. Robert Hagberg, chief of cardiac surgery at Hartford Hospital, said the popularity of TAVR is growing because patients often tolerate it better than open-heart surgery and face a faster recovery. "It's actually competing with standard surgical aortic valve replacement now because TAVR is becoming mainstream," Hagberg said.
Hartford Hospital was recently selected as one of 35 hospitals nationwide participating in a study that allows low-risk patients with severe aortic stenosis to receive TAVR.
"For participation in the registry," says Dr. Ray McKay, co-director of the Structural Heart Program, "patients with severe aortic stenosis who are at low operative risk will be evaluated and approved for enrollment by a national screening committee. Patients will be seen in follow-up at 30 days and yearly for a total of 10 years."
As one of the biggest TAVR programs in the region, Hartford Hospital was the only New England hospital accepted for the study.
---