There have been significant developments over the last decade when it comes to the treatment of lung cancer. One of those developments has been the use of immunotherapy.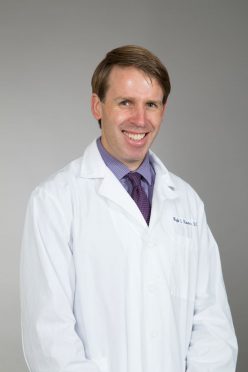 "The immune system can be a powerful tool to fight lung cancer, but cancers generally adapt to evade detection by the immune system," said Wylie Hosmer, MD, Director of Thoracic Disease Management at the Hartford HealthCare Cancer Institute at The Hospital of Central Connecticut. "New immunotherapy drugs allow the immune system to recognize the cancer as something foreign, which is exactly what we want to see."
Dr. Hosmer says that immunotherapy drugs have helped with the prognosis of lung cancer – even those with advanced stage 4 disease. "Immunotherapy treatments have revolutionized the management of many lung cancer patients, and I expect ongoing research will improve the chance of success for more and more patients," said Hosmer.
Once it became clear that immunotherapy drugs could have a significant impact on the treatment of lung cancer, the goal of research evolved to maximizing their use in a variety of settings and increasing the number of patients who could benefit from them. Multiple studies over the last five years have established the use of immunotherapy drugs both before and after surgery or radiation.
"We are currently evaluating the use of immunotherapy – even in those patients with very small cancers being treated by radiation," said Hosmer. It's expected that immunotherapy – combined with more traditional chemotherapy or other immunotherapy drugs – will play an increasing role in improving outcomes for patients after surgery and radiation.
"At the Hartford HealthCare Cancer Institute, we currently have several research trials evaluating the use of novel immunotherapy combinations to help those patients whose cancer did not respond adequately to standard options," said Dr. Hosmer. "It is our expectation that the use of these new combinations will greatly expand the population of lung cancer patients who benefit from immunotherapy."
Lung cancer has remained the most common cause of cancer-related deaths in the United States, but efforts directed towards smoking cessation and early detection of lung cancer have helped reduce mortality. The team at the Hartford HealthCare Cancer Institute is dedicated to maximizing the use of available drugs and helping to develop the next generation of immunotherapy approaches. Patients should discuss these treatment options with their doctor.
---