Quinnipiac University faculty and staff visited the CESI (Center for Education, Simulation and Innovation) Wednesday to learn more about what the center offers, and brainstorm ways students could benefit from the partnership that was announced earlier this year with Hartford HealthCare.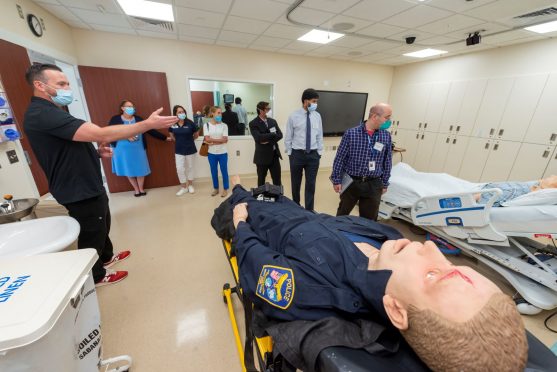 In January, Hartford HealthCare and Quinnipiac University announced a partnership to build the workforce of tomorrow and grow student pipelines across a wide range of professions. This week, leaders also discussed research opportunities and how the two organizations can work together in those endeavors.
"This can be a wide-ranging partnership and I see it developing as we go. It is incredibly exciting and we are super fortunate to be building this partnership together," said Quinnipiac University Provost Debra Leibowitz.
About 40 people attended the tour Wednesday, which included an introduction about the different ways CESI supports the healthcare industry locally, regionally and globally through partnerships with manufacturers and providers. CESI has a dual mission to help train doctors and nurses while also supporting industry clients with training.
The tour broke into smaller groups to explore different parts of the center, including the Da Vinci robotic system, laparoscopic surgery training area, SimMom delivery room with SimMom, newborn and toddler mannequins, a VR demonstration, the CESI studio, a demonstration of trauma mannequins, a procedure room for intubation and central line practice, and a model patient room with a mannequin and monitors.
The tour also included non-medical students, with discussions of how different academic programs could focus on different opportunities – such as whether computer programming students could help with the virtual reality coding, or business students could work with billing software training or development.
Before the tour, a video of the recent Disaster Day exercise was shown, which could help train media students to handle a crisis by setting a press conference, writing press releases and monitoring social media posts. QU students were involved as volunteer victims in the exercise, which was training for Emergency Department interns to learn how to handle a mass casualty disaster, and also included a simulated explosion and domestic dispute.
Mike Midgley, an anatomy professor in the Department of Biology, said the tour was very beneficial. "Our students want hands-on options for learning and all of this is very interactive," he said. "They can see treatment options and see how it works."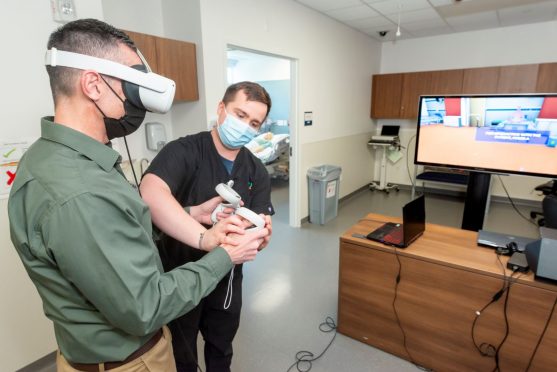 Stacy Spiro, the OBGYN Clerkship Director, said there is a lot of opportunity for resident or hands-on nursing training. Although she had visited the center in the past, she hadn't seen all the different training rooms. "This will be such a great partnership, with opportunities for our students to see more, and be more aware of different employment opportunities," she said.
Rocco Orlando, MD, FACS, chief academic officer for Hartford Healthcare, said the tour and brainstorming session offered a myriad of opportunities. "It is nothing I didn't anticipate, but there are huge opportunities for matchmaking and expansion," he said.
The partnership with Quinnipiac also includes advanced, coordinated on-campus care through Hartford HealthCare's Campus Care program. This will provide high quality health and wellness services to manage students' complete care needs, from physical and mental well-being to athletic training for the university's Division I athletes.
---