Ava Guyer is a natural athlete. At 15 years old, she plays softball, soccer and basketball for East Granby High School.
Not quite as athletic as her daughter but just as ambitious, Ava's mother, Jill (above, right, with Ava), signed up to run a 10K last year. She'll be the first one to tell you she didn't train like she should have.
The mother-daughter duo's physical activities converged when each suffered sports injuries, landing them at Hartford Hospital's Bone & Joint Institute.
In late February, Ava was at basketball practice scrimmaging the East Granby boys' team when her knee gave out during a fastbreak. The pain was excruciating and she couldn't get up. After a trip to the Bone & Joint Institute, a diagnosis was made: Ava had a torn ACL.
Jill's experience with the 10K was a painful endeavor and while she finished the race, she was suffering from discomfort in her right knee that never quite resolved itself. She tolerated the injury for months with little relief. Having witnessed the exceptional care taken with Ava, Jill put her trust in the BJI for her own injury and started physical therapy in May.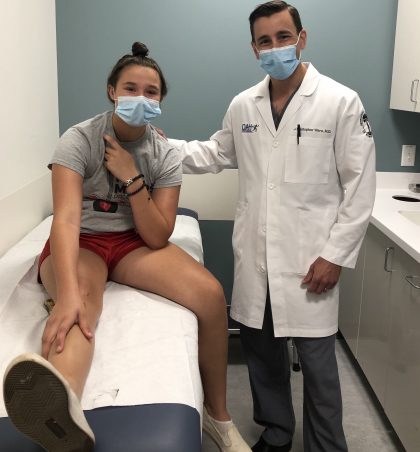 As a nurse, she stands a lot during her shift, and Jill's quads, hips and glutes were identified in need of attention. Physical therapists put her to work with strength training with the goal of improving her mobility, agility and balance.
Ava's treatment was a little unusual, given that COVID-19 safety protocols interrupted the initial timeline. Her surgery, scheduled for March 20, was rescheduled for mid-May.
"Having to postpone surgery was disappointing, but I understood," Ava said. "Quarantine was hard to handle, too, but the therapists helped me through the emotional part of my injury combined with COVID. Throughout the entire process, everyone at BJI, including my surgeon [Dr. J. Kristopher Ware, shown above with Ava], kept in touch."
Choosing the Bone & Joint Institute was an easy choice for Jill.
"I was really impressed at the variety of services for high school athletes," she said. "Beyond Ava's surgery, she has access to physical therapy and counseling. The treatment she received has been phenomenal."
Both mother and daughter have high praise about COVID-19 safety precautions they witnessed during Ava's surgery. Each took COVID tests before Ava's surgery.
"I felt very safe and everybody made me feel super comfortable," Ava sayss. "The lobby was arranged with section markers to keep people in proper areas. It was clean and immaculate, and I saw people constantly cleaning surfaces. I wasn't nervous at all."
Jill is most impressed with the coordination of care that the BJI offered to Ava.
"Ava met with a nutritionist before surgery who formulated a plan to increase Ava's protein intake," Jill says. "A mental health therapist also talked to Ava about what she was going through and how she was processing it."
Ava's surgery was a success and she's taking rehabilitation very seriously. Within a week or two of surgery, physical therapy began, and Ava is focused. She expects six more months of physical therapy and recovery.
Jill has no immediate plans to run another 10K, but her knee pain and mobility have improved greatly, making her long shifts at work a lot easier to manage.
As the state and schools continue to grapple with COVID, Ava's fall sports season is uncertain. But with a recovery timeline of eight to nine months, she's grateful for a bit of extra time to heal without thinking she's missing out on the athletics she loves so much.
"I have a while before I'll be back to sports," she says.
For more information about Sports Health services at the Bone & Joint Institute, click here.
Not feeling well? Call your healthcare provider for guidance and try to avoid going directly to an emergency department or urgent care center, as this could increase the chances of the disease spreading.

Click here to schedule a virtual visit with a Hartford HealthCare-GoHealth Urgent Care provider.
Stay with Hartford HealthCare for everything you need to know about the coronavirus threat. Click here for information updated daily.
Listen and subscribe to Hartford HealthCare's More Life series on Apple Podcasts by clicking here.
Stay fit. Stay happy. Stay healthy. And keep on top of COVID-19 with Hartford HealthCare's daily text alerts. Subscribe by texting MoreLife to 31996.
---