When former Conard High School of West Hartford student Cate DiGiacomo injured herself during a lacrosse game against archrival Hall, she worried that her athletic career may be in jeopardy. The multi-sport student athlete, who was being recruited to play volleyball in college, had torn her ACL, an injury that would require surgery and put her on the sidelines indefinitely.
"I didn't know what to expect after the injury and when I would be ready to get back to playing," DiGiacomo said. "With all of the disruptions from COVID and now this, it was a very frustrating situation."
Following surgery performed by Dr. Cliff Rios at Hartford HealthCare's Bone & Joint Institute, Cate was referred to the team at Hartford HealthCare Rehabilitation Network's outpatient clinic in West Hartford. She spent several weeks working closely with physical therapists to recover her range of motion and build back her strength.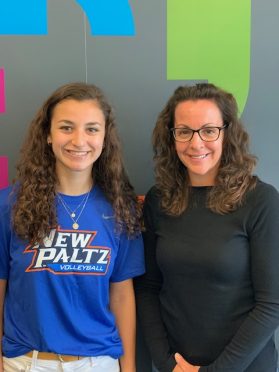 After her therapy, she transitioned to Hartford HealthCare's Strength and Conditioning program, where she spent several months working with Exercise Physiologist Emil Johnson. This program is designed to help injured athletes prepare to return to their sports and optimize their ability to recover and return better than they were before their injury occurred. DiGiacomo said it was essential to getting her back to playing the sports she loves.
"The program was incredibly intense, but Emil was amazing and always kept me motivated, no matter how difficult things got," she said. "After working with him, I now have such a better understanding about my body and how to train properly to not only avoid getting injured again, but how to get the most out of my workouts."
Added Cate's mother, Jeanne, "Emil really helped Cate get back to where she needed to be and, in fact, she is now better than she was before the injury. We could not be more impressed with the care she received and would not hesitate to recommend all of Hartford HealthCare's services to anyone who could use them. It's the best investment in her recovery we could have made. "
Cate is now looking forward to starting her collegiate athletic career this fall when she will play volleyball at the State University of New York at New Paltz.  She's especially excited about competing at the collegiate level, thanks in large part to the confidence she gained working with Emil and the entire team at Hartford HealthCare.
"It's amazing to think about how far I've come since the injury, but thanks to Emil, I never stopped believing that I could get to where I needed to be and staying committed to the process has really paid off.
For more information about Hartford HealthCare's Sports Health services, including the Strength and Conditioning program, please visit www.mysportshealth.org
---