Marri Fairbanks is always looking for her next challenge.
Fairbanks, who is 55 years old, took up Crossfit 15 years ago, with no prior weight lifting experience. When her gym began offering a new class on powerlifting a year and a half ago, she gave it a try.
But, just six weeks from her first powerlifting meet, Fairbanks began experiencing a dull, aching pain in her left shoulder that left the joint feeling tight and weak.
"I had put so much effort into preparing for the meet. I was really nervous that I wouldn't be able to do it," Fairbanks said.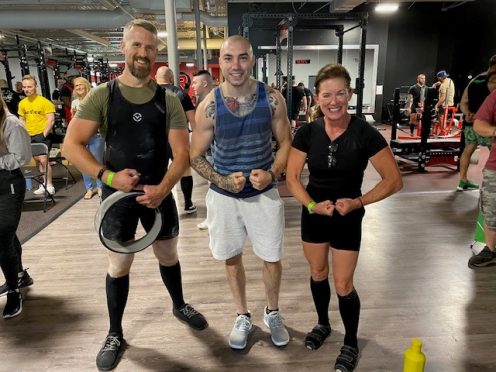 A seamless process
With limited time before the meet, Fairbanks was able to use Direct Access, a new service offered through the Hartford HealthCare Bone & Joint Institute that allows patients like her to visit a physical therapist without waiting for a referral from another healthcare provider.
"It was easy – I didn't waste any time going to my primary care physician to get an exam and referral. It was seamless," Fairbanks said.
> Connect with the Bone & Joint Institute
A diagnosis and a plan
At Hartford HealthCare's Bone & Joint Institute, Fairbanks was evaluated by Stefanie Bourassa, the sports medicine clinical program director and Bone & Joint Institute rehab director. Bourassa found indications of rotator cuff tendopathy as well as limitations in the middle of her spine.
"Marri's body was compensating for the lack of movement in one area and it was negatively impacting her shoulder," said Bourassa.
With the help of physical therapists Juli Deng and Alyssa Englert, Fairbanks began strengthening muscles that stabilized her shoulder blades and underwent manual treatments to improve tissue tension and length. Eventually, she progressed to mimicking her Crossfit and powerlifting movements to rebuild her confidence and strength.
Back to fighting shape
After about five weeks of physical therapy, Fairbanks was able to attend the meet. With her shoulder healthy, she set new personal records for bench press and deadlift – goals she may not have reached without the help of the physical therapists.
"They took an interest in my goals and getting to know me," Fairbanks said. "They would ask about my day, what do I do for work, do I stand? I got tips for driving, work environment, things to look out for throughout the day that could affect my shoulder. They fixed me up and got me in fighting shape. It was really great."
---