Hartford Hospital is growing again. Hartford HealthCare broke ground Nov. 21 on a $70 million expansion of the Bliss building, a 50,000-square-foot addition providing four floors of additional space to support clinical areas including MRI, interventional radiology, electrophysiology, the cath lab, critical care and surgical care.
"The Bliss building expansion (see artist's rendering below) supports a culmination of unprecedented growth at Hartford Hospital and a look to the future by giving us the necessary physical infrastructure to better support our hospital, Institutes and community," said Bimal Patel, president, Hartford Region.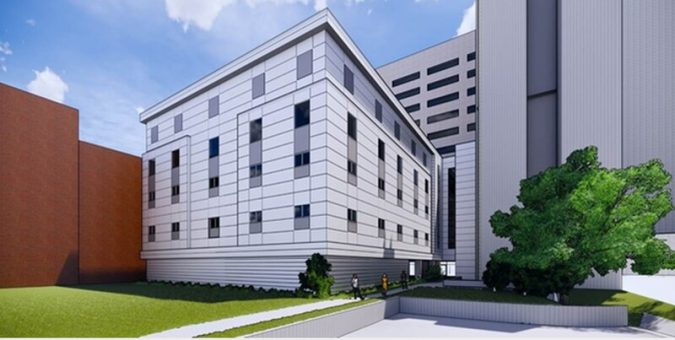 The new building will be located on the grassy area outside the cafeteria, adjacent to the Cheney and Crane buildings. Its layout will make for an easier and more seamless patient experience, with separate areas for inpatient and outpatient care. It will also connect to the ED Observation Unit so patients can easily get an MRI rather than going to the Jefferson building.
Construction is expected to start in early December. The building will open in August 2021.
"The Bone & Joint Institute, the Bliss expansion and our facility projects to come move us forward as a quaternary destination of care," said Patel. "With this ground work and level of investment in our campus, few institutions in the country will rival what Hartford Hospital is set to become."