It's easy to spot a mask that could put anyone who comes within 6 feet of the wearer at risk of COVID-19 exposure. Look for a little plastic valve.
These are known as one-way valves, with the filter functional only in one direction. As you inhale, the incoming air is filtered. As you exhale, the outgoing mixture of carbon dioxide, oxygen, water vapor and, yes, possibly COVID-19 viral particles releases unfiltered. The San Francisco Department of Public Health actually tweeted a warning that these masks "may actually propel your germs further." It prohibited them in its original public health order requiring masks or other face covering during the pandemic.
Before COVID-19, people would buy these masks for DIY projects like installing fiberglass insulation, sweeping a dusty garage, sanding an old bookcase or removing mildew or efflorescence — a white, powdery substance — from basement walls. A valveless N95 became a coveted personal protective equipment for healthcare professionals during the pandemic. A valved N95 mask became a potential menace.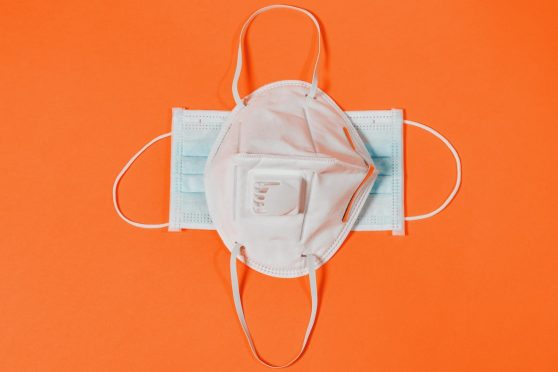 So what's the attraction? Two possibilities: An N95 respirator with an exhalation valve offers the same protection to the wearer as one without a valve, says the Centers for Disease Control and Prevention, and the valve makes it easier to breathe. Some people also say the mask keeps their face cooler and reduces moisture buildup.
In a healthcare setting, however, these masks are unacceptable.
They should not be used, says the CDC, "where a sterile field must be maintained (e.g., during an invasive procedure in an operating or procedure room) because the exhalation valve allows unfiltered exhaled air to escape into the sterile field."
The CDC updated its guidance Aug. 7, urging the public to also avoid these masks: "Masks with exhalation valves or vents should NOT be worn to help prevent the person wearing the mask from spreading COVID-19 to others."
Valved masks are advertised frequently online and often look both functional and fashionable. The buyer, meanwhile, probably doesn't know they defeat the intended purpose — to protect other people.
The CDC recommends cloth face coverings in public when it's difficult to maintain 6-feet social distancing. (To read more about why a cloth mask is even better than a surgical mask, click here.) An N95 mask offers the best protection, but these masks have been reserved for healthcare professionals during the pandemic.
Washing your hands frequently and maintaining physical distancing remain the best ways out of this pandemic. A mask, without a valve, worn in public is the final piece. It shows you care about other people's health, too.
This story was updated Aug. 13.
Need to see your doctor? New Patient? For more information about Hartford HealthCare virtual health visits, click here.
Click here to schedule a virtual visit with a Hartford HealthCare-GoHealth Urgent care doctor. Find out more about COVID-19 antibody tests here.
Sign up for our "Coping with COVID" podcast series here.
Stay with Hartford HealthCare for everything you need to know about the coronavirus threat. Click here for information updated daily.
Questions? Call our 24-hour hotline (860.972.8100 or, toll-free, 833.621.0600). 
Get text alerts by texting 31996 with COVID19 in the message field.
---