For 20 years, Garry Brooke fought a disease he didn't have, and once he was properly diagnosed and had surgery, he had one goal in mind: to dance at his daughter's wedding.
Originally diagnosed with – and treated for – multiple sclerosis, it wasn't until Garry was 43 years old, when he switched neurologists and had a MRI, that he was correctly diagnosed with Arnold Chiari malformation and spinal stenosis.
Before then, however, Garry's condition worsened. Not only did the pain take a toll on his quality of life, but he lost the ability to stand on his own. "At night I would often lay on the floor, crying from the pain," he said. "I came to the realization that I was not getting better and I needed help."
In March 2021, Garry underwent spinal surgery at Hartford Hospital's Bone & Joint Institute with neurosurgeon Brendan Dyer Killory, MD, FAANS. After, he was transferred to the hospital's Inpatient Rehabilitation Unit (IRU) where he worked with the doctors, therapists and nurses to regain function and motor skills, including teaching his body to walk again.
In late April, Gary went home, but his recovery did not end there – Hartford HealthCare at Home teams continued physical therapy for several weeks before he transitioned to outpatient therapy.
In January 2022, after caring for his father in Florida for several months, Garry resumed therapy at the Hartford HealthCare Rehabilitation Network in Wethersfield, with a goal of dancing with his daughter Victoria at her wedding in April.
"I was scared to death when I shared my goal with the physical therapist," Garry said. "But I knew how much it meant to Victoria and that's all that mattered."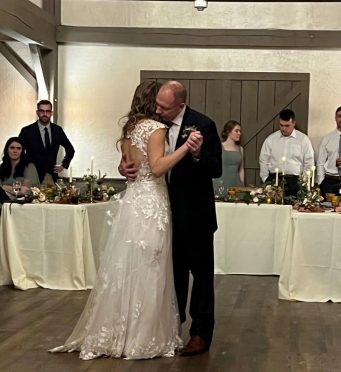 For the next two months, Garry worked diligently with his physical therapists. Knowing that Garry had a long history of practicing and teaching martial arts, Misty Durkee, one of Garry's physical therapists, was able to incorporate familiar exercises into his therapy.
"I was not holding onto the walker at that point," Garry recalled. "I was shifting my weight, synchronizing movements with my hands, all while standing. I had not done that in 20 years. Not only was I able to remember the movements, I was standing on my own!"
After weeks of hard work, he was ready to dance.
"Misty had me try different things to prepare for the big day," Garry said. "I would practice, in my dress shoes, to the song I would be dancing to – moving side to side, subtle movements to help build endurance and core strength."
At the wedding, not only was Dad able to dance with his daughter, he stood up on his own to give a speech.
Garry credited the scope of services – including the Pain Treatment Center, Inpatient Rehabilitation Unit, Hartford HealthCare at Home and Hartford HealthCare Rehabilitation Network – with helping him recover.
"I am thankful for the highly-skilled professionals at Hartford HealthCare who helped me get back on my feet!"
Father-Daughter Wedding Dance
from
Hartford HealthCare
on
Vimeo
.
---