If your summer plans include laying on the beach, lounging by the pool or picnics with family and friends, then chances are you're going to be exposed to the sun.
But could those rays be harmful to your health?
"Skin cancer is the most common type of cancer in the United States. It's estimated that one out of every five people will develop skin cancer at some point in their life," says Bret Schipper, MD, chief of Surgical Oncology at the Hartford HealthCare Cancer Institute at The Hospital of Central Connecticut.
Here's who's most at risk, the signs of skin cancer, and everything else you should know about preventing skin cancer.
Skin cancer is caused by UV light.
The abnormal growth of skin cells that develop over time due to exposure to UV light.
"This is why the American Academy of Dermatology encourages people to stay out of indoor tanning beds and protect their skin when outdoors," Schipper explains.
Some people are more at risk.
Certain people are more at risk of skin cancer, including those with:
Light-colored skin
Blonde or red hair
Blue eyes
Freckles
And if you burn easily? That's another risk factor.
> Related: Heading Outside? Protect Your Skin with These Tips from Dermatologists
But anyone can get skin cancer.
Regardless of skin, hair or eye color, anyone is at risk of developing skin cancer.
"People with darker skin tones can still get skin cancer and it's often diagnosed in its later stages when it can be more difficult to treat," adds Dr. Schipper.
Skin protection starts with sunscreen.
The best tip for preventing skin cancer? Apply a broad spectrum, water-resistant sunscreen with an SPF of 30 or higher when you're outdoors.
And be sure to stay in the shade whenever possible, or wear protective clothing, such as long sleeves, sunglasses and a wide-brimmed hat.
> Want more health news? Text StartHere to 85209 to sign up for text alerts
When should I see a doctor?
As with any type of cancer, early detection is key.
If you notice a new mole or spot on your skin, see a dermatologist to have it checked.
There are four main types of skin cancer and melanoma is one of them. It's considered the most invasive skin cancer because it grows and spreads rapidly.
The ABCDE acronym can help people identify the characteristic of melanoma.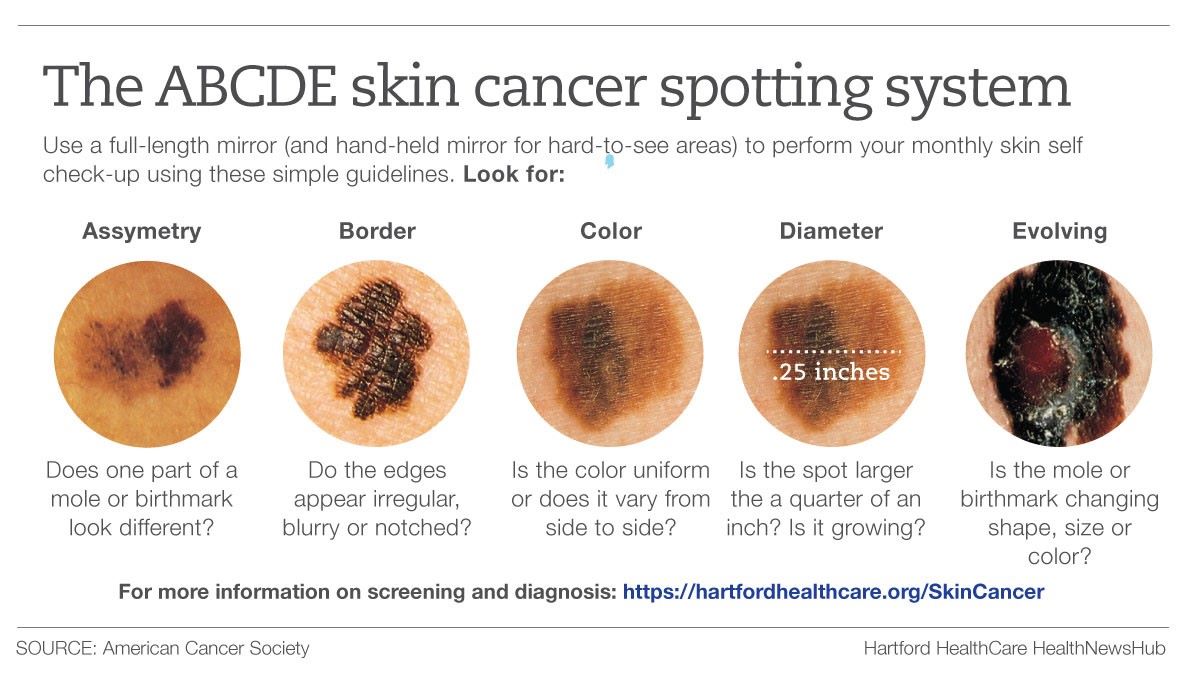 ---