When the 65-year-old man came to the Spine Wellness Center, he had already undergone several surgeries on his spine and even had a spinal cord stimulator implanted, yet was told he would likely feel pain in his right leg for the rest of his life.
He saw Dr. Vijay Yanamadala, system medical director of spine quality and surgical optimization for Hartford HealthCare's Ayer Neuroscience Institute and director of spinal deformity at the Spine Wellness Center in Westport. Dr. Yanamadala had recently seen a colleague in California demonstrate success inserting a new device between vertebrae in the spine to help ease pain and increase mobility. It was the first use of the device called aprevo® by Carlsmed, a medical device technology company. He suggested it to the man.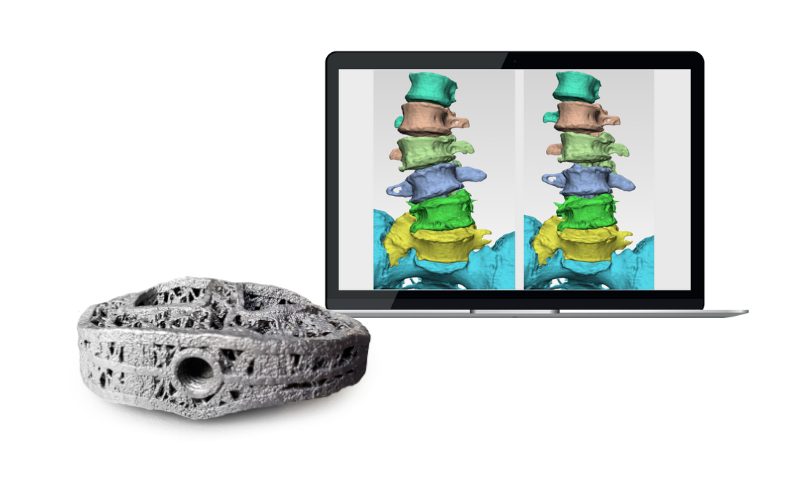 "This is a patient-specific implant for those who need lateral lumbar interbody fusion," Dr. Yanamadala said. "This patient had other concerns such as osteopenia weakening his bone density, and a history of procedures that actually caused adjacent site disease."
The aprevo® technology, approved by the Food & Drug Administration, is currently in limited clinical release. It is available only to surgeons with extensive experience treating spinal deformities. In early summer, Dr. Yanamadala surgically implanted the device in his patient, becoming the second in the world, and the first in the eastern United States, to do so.
"Unlike other interbody devices, aprevo® is created uniquely for each patient," Dr. Yanamadala said. "Digital imaging data from CT scans of the patient's spine are used to create implants with an anatomical fit that matches the contours of the patient's vertebrae."
Carlsmed uses transitive analytics, the process of using data analytics to align outcomes with expectations, to develop patient-specific surgical plans and manufacture three-dimensional printed aprevo® devices. The devices are personalized to conform to individual patient anatomy and correct that patient's specific deformity in keeping with their individualized surgical plan.
"The endplates of patient bones can be irregular," Dr. Yanamadala said. "Regular stock devices sometimes cannot fuse with the patient's bones. They can even cause undue pressure on nearby bones, leading to fractures and subsidence, which can lead to complete surgical failure."
Dr. Yanamadala became aware of aprevo® through his participation in the Scoliosis Research Society, the world's largest organization of spine experts, which meets regularly to identify patient needs and vet solutions. While named after scoliosis, one cause of adult spinal deformities, the Society's work also proves helpful to patients with other conditions and those needing revision surgery to correct earlier procedures, he said.
"I discuss all complicated cases with a consortium of surgeons who are part of the Scoliosis Research Society to develop the best care for my patients," Dr. Yanamadala said. "Our goal is to develop rigorous mechanisms that deliver the right care for every patient so we can maximize the chance that the surgery will be the last surgery they have to have."
His first aprevo® patient has already seen tremendous improvement, including complete resolution of the pain in his right leg for the first time in years, Dr. Yanamadala said.
He credited this "pioneering" company for giving patients personalized options that have never been available before.
"(This device) has the opportunity to change the way we do spine surgery by truly personalizing surgery to the individual patient," he said. "This personalization is expected to reduce complications from surgery and improve patient outcomes and satisfaction."
---