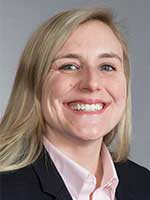 Cedar Mountain Commons, an independent and assisted living community located at 3 John H. Stewart Drive, recently welcomed its new director of operations. Maley W. Hunt, MHA, LNHA, started this position in February.
Hunt began with Hartford HealthCare Senior Services, which manages Cedar Mountain Commons, in 2012 as an administrative intern and most recently was an operations analyst. She previously held positions at a health and wellness center and The National Consumer Voice for Quality Long-Term Care in Washington, D.C.
She holds a Master's of Health Administration with a certificate in Long-Term Care from George Washington University in Washington, D.C. and is a Licensed Nursing Home Administrator. She is a member of the American College of Health Care Executives and has presented at national conferences for the American College of Health Care Administrators.
"Each day it is a privilege to find new ways to improve upon the rich tradition of excellence at Cedar Mountain Commons.  We want to continue to stand out in this competitive market of caring for Hartford Area seniors by delivering the best quality care with the best customer service," Hunt said.
Hunt, originally from Rocky Hill, is a resident of Wallingford. She is active in her community competing in Hartford Marathon Foundation road races, volunteering through Rocky Hill Congregational Church, and serving on the committee for The George Washington University Central Connecticut alumni chapter.
Opened in 2001, Cedar Mountain Commons, a department of Hartford Hospital, is a not for profit independent and assisted living community offering a wide array of services and activities tailored to help all seniors, wherever they are on life's journey.
For more information about Cedar Mountain Commons, visit cedarmountaincommons.org or call 860.665.7901.