Staff from Hartford HealthCare Rehabilitation Network joined members of the Newington Chamber of Commerce and Town Council for a ribbon-cutting ceremony at the Hospital of Central Connecticut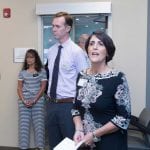 Rehabilitation Network's new outpatient clinic on Fenn Road in Newington.  The event was also attended by representatives from the Hartford HealthCare/GoHealth Urgent Care center which is next door to the new rehab clinic.
"We are very excited about our new space and even more excited to be a part of the Newington community," said Cindi Delaurentis, vice president of clinical operations for the Hartford HealthCare Rehabilitation Network. "We look forward to serving the people of Newington with our partners at GoHealth for a long time."
Services available at the new Newington rehab clinic include:
Physical therapy
Sports medicine
Balance and Falls
Vestibular therapy
Concussion management
Work injury rehab
Golf rehab by Titleist Performance Institute
Dry needling
The services available at the Hartford HealthCare/GoHealth Urgent Care center include treatment for:
Colds
Flu
Fever
Asthma
Allergies
Emphysema
Minor skin lacerations, cuts
Burns
Urinary tract infections
Sports injuries, sprains and strains.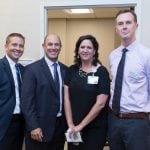 GoHealth centers will also provide lab services and X-rays for joint and bone injuries, using a portable machine that's wheeled into the examination room. The X-ray machine is among the features that distinguish an urgent care center from a retail clinic, which are usually staffed by nurse practitioners and offer more basic services like flu shots, vaccinations and treatment of minor wounds, joint sprains, poison ivy and other skin conditions.
For more information about the Hartford HealthCare Rehabilitation Network, please visit HHCRehabNetwork.org
For more information about urgent care services in Newington and across Connecticut, visit here.