Like all first responders, trained K9 dogs are at risk of injury in the line of duty. On Monday, 18 HHC safety officers and local K9 police officers attended a unique training class at the Hartford HealthCare Center of Education, Simulation and Innovation (CESI) where they learned to administer first aid to their four-legged partners.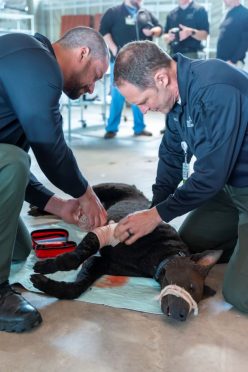 Although the class is taught nationwide, the HHC course was unique because it used an advanced K9 simulator called ALEX which can breathe, pant, and present officers with different first aid scenarios including broken bones, severe cuts, heat exhaustion and more.
Officers learned a variety of useful strategies including how to splint a dog's leg with a police baton and branch, and how to asses and treat a police dog who is shot or stabbed while on duty. The training was part of a partnership with state police and HHC, and was also attended by vet techs who were available to answer questions about certain conditions.
Among those in attendance were Hartford HealthCare public safety officers Craig Plante from Backus Hospital, and Nicholas Stokke from The Hospital of Central Connecticut.
"The hands-on application and treatment options are helpful," said Plante, a public safety K9 supervisor. He has had Remi, a black lab trained in explosives detection, since August and they have been certified since November. "This type of training and having K9s allows us to do a better job for our hospitals and our communities."
Stokke has been a public safety officer at HOCC New Britain for six years now, and for the last three years has patrolled the Central Region with his K9 partner Nitro, a 5-year-old Belgian Malinois trained for explosive detection.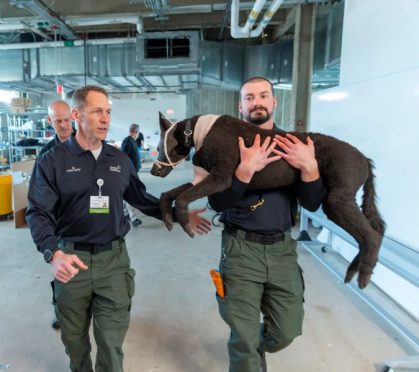 "I thought the explosive material poisoning was the most beneficial information I received, since a primary function of K9 Nitro is to sniff for and identify such devices," Stokke said. "I already had some basic knowledge of everyday wear and tear that working dogs may encounter, but I knew there had to be more that I could learn to keep my partner safe and healthy,"
For Jason Frey, a corporal with the Clinton Police Department, the experience was invaluable
"The last class I took was about how to recognize different issues, but this one offers ways to treat and handle it, to gain time while taking a dog to a veterinarian," he said. "How can you put a price on that?"
---