The Hartford HealthCare LGBTQ+ Colleague Resource Group joined fans at Dunkin' Donuts Park in Hartford this Week as the Hartford Yard Goats celebrated Pride Night.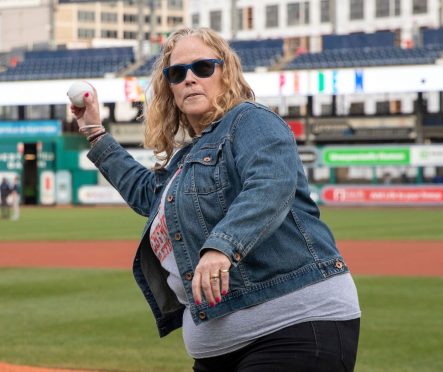 "The evening was an opportunity to highlight some of the advances that Hartford HealthCare is making in working with LGBTQ+ patients as well as supporting their LGBTQ+ colleagues," said Laura Saunders, PsyD, ABPP.
Dr. Saunders gave an on-field presentation before the game and also threw out the first pitch. Being a softball player in high school paid off – the ball landed right over the plate.
The LGBTQ+ Colleague Resource Group consists of over 40 Hartford HealthCare allies and LGBTQ+ community members, who volunteer because they feel passionate about ensuring high-quality care is available to all. Their goal is to provide an equitable, affirming and supportive environment for LGBTQ+ patients, families and staff by creating a culture in which healthcare is delivered to all with sensitivity, kindness and respect.
"I am thankful to be involved in the process of ensuring HHC is visibly inclusive to the LGBTQ+ community through our actions, processes and environments. Every person deserves to feel safe, respected and supported in being their authentic selves," said colleague resource group co-chair Valerie Martin.
The game was sponsored by Connecticut VOICE magazine, a multi-platform offering readers and viewers the ability to experience VOICE an award-winning quarterly publication VOICE, a television show CT VOICE Out Loud on WTNH and a podcast Out Loud.
The next Pride Night with the Yard Goats is scheduled for July 14.
---