William M. Jennings, who took the helm at St. Vincent's Medical Center in Bridgeport as Fairfield Region President in July 2021, recently requested to shadow the night shift staff at St. Vincent's Emergency Department. The experience had an impact on Jennings beyond what he had expected.
"What I witnessed was an ordinary weekday night for the colleagues with whom I interacted," said Jennings. "For the rest of us mere mortals, it was nothing short of daring. People typically think of our doctors as the healers, and they are, but after spending a night in the ER, I was reminded there's an entire team – each doing their part — to turn a trauma into a triumph."
It was a typically busy night in the ER. Cases triaged ranged from non-life threatening, to "better safe than sorry" visits, to more serious and critical situations.
Jennings recalls: "A woman, who was casually wheeled into the lobby by a friend, did not appear to be in deep distress. However, after being asked a few brief questions, the team quickly realized the patient was the victim of a knife injury. Penetrating trauma. Instantly, the mood and actions changed on a dime. Dozens of colleagues sprang into action while barely uttering a word. They were activating a trauma alert and they all knew their roles and their places. Kelly, the nurse in charge, calmly orchestrated the team as physicians, surgeons and many others gathered with disciplined precision."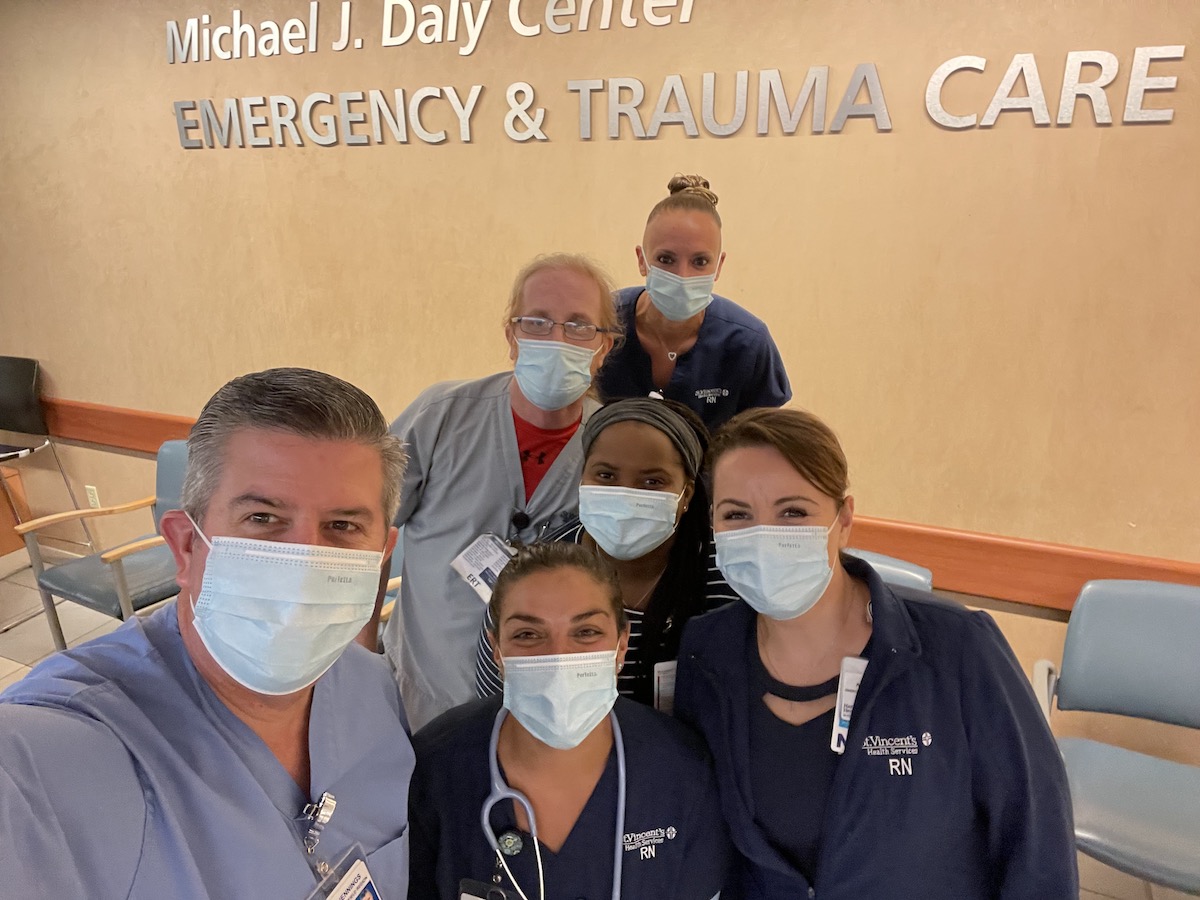 This would be just one of several critical cases requiring immediate action and expertise that night. Jennings looked on throughout the night, taking note of the sights and sounds of the many players in any given situation.
Security guards on duty were not only protecting the patients, staff, and visitors, but were often assisting with parking or those navigating the unfamiliar setting of a hospital.
Registration staff were busy gathering information about each patient and their emergency contacts.
Nurses prepared patients, opening lines of communication, explaining procedures, while documenting their care meticulously.
Patient Care Technicians, often shouting out vital signs for all to hear, assuring all team members were kept well informed on a patient's condition or progress.
Radiology technologists were at the ready, taking images to supply critical information to the doctors.
Respiratory Therapists were preparing emergency airway kits and mechanical breathing devices.
Environmental services staff were also constantly on the move, sweeping, cleaning, and disinfecting surfaces.
We know that hospitals have extensive staff behind the scenes. Every department and employee play an important role in keeping things safe and efficient before, during and after a hospital stay. Hospital admissions can range from joyous, in the birth of a baby, to planned visits – taking measures to improve quality of life in the fields of cardiology, neurology and orthopaedics. But a trip to the emergency room can often be an unexpected and unsettling time. Most of us don't get to see the level of preparedness, expertise and caring on the other side of those doors before we arrive.
The takeaway for Jennings: "The word 'patient' comes from its root in Latin meaning 'One who suffers.' Regardless of their task or their formal training, the jobs of all those I observed in action that night was to relieve distress, to provide compassion and to heal those suffering. They are all healers."
You can check ER wait times at St. Vincent's Medical Center here.
---