In the summer of 2020, Maria Kivi's life was turned upside down when she fell, injuring her wrist, ankle and back. The 59-year-old Westport native had already been dealing with a prior neck injury and the accident sent her into serious chronic pain.
"The accident really threw a wrench in everything," she said. "It changed my whole quality of life."
Shortly after her accident, Kivi began treatment with Rajat Sekhar, MD, a pain management specialist at the Ayer Neuroscience Institute Spine Wellness Center in Westport. Dr. Sekhar had helped Kivi through her previous neck injury.
The Spine Wellness Center offers a one-stop approach with different specialties including physiatry, neurosurgery, pain management, behavioral health, neurology, physical therapy and nutrition all under one roof. The Center also offers holistic treatments such as acupuncture, massage therapy and reiki.
"Maria has had trigger point injections, epidural steroid injections and sacroiliac joint injections which help her quite a bit," said Dr. Sekhar. "But she still has baseline chronic back pain. When I see someone dealing with chronic pain and who has reached a maximum of medical benefits, meaning we are treating them but they still have flare ups, I suggest integrative medicine such as acupuncture, reiki and massage in addition to physical therapy."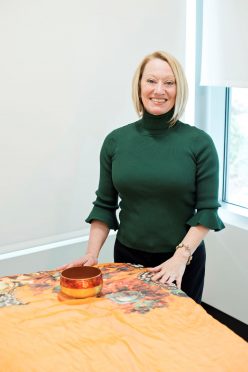 It was during a sacroiliac joint injection treatment with Dr. Sekhar that Kivi met Lynn Camera, a nurse with the Spine Wellness Center and a reiki master practitioner.
"Reiki is a Japanese healing practice," Camera explained. "With reiki, my hands are my tools and they transfer energy from the practitioner to the client. Reiki helps to remove blocked energy, reducing stress, pain and anxiety."
Patients are often referred to Camera from providers at the Spine Wellness Center as the focus is on optimizing a patient's overall health and wellness through rehabilitation and integrative medicine to avoid surgery.
"Pain, stress, anxiety and insomnia are the most common diagnoses that I work with," Camera said. "I have been able to work with clients to get their pain level to zero over time."
In addition to physical therapy, Kivi has been seeing Camera regularly for reiki to help with her pain symptoms.
"I was a bit of a skeptic about it, wondering if it was really going to work," Kivi said. "It has really got me through some bad times. Sometimes after a session I feel empowered to do something a little more challenging, like stop at a store, things I could not do in the past."
With the tools Camera has taught her, Kivi is able to practice the mindfulness of reiki on her own to help her through her pain at home. She is still dealing with chronic pain but has learned how to manage it, and with the help of physical therapy and exercise physiatry is getting stronger each day.
"For people with chronic pain, the goal is to improve their quality of life and give them to tools to learn how to manage it," said Dr. Sekhar. "Maria has had a long journey and despite interventions being successful, she still has pain. She never gives up and takes an active role in her life to feel better."
---