By William Sardella, MD
Colorectal Surgeon, Hartford HealthCare Medical Group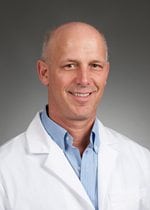 As many as 1.6 million people live with inflammatory bowel diseases. With proper care and treatment, however, they can be well managed, allowing people to live with less symptoms and a better quality of life.
What are inflammatory bowel diseases?
Inflammatory bowel diseases (IBD) refer to a group of conditions characterized by chronic inflammation of the gastrointestinal tract. Ulcerative colitis and Crohn's disease are the two forms of IBD. Often times, they present with similar symptoms like abdominal pain, rectal bleeding and diarrhea. One major difference is that colitis affects only the inner lining of the colon (large intestine), while Crohn's disease can cause inflammation anywhere along the digestive tract, from the mouth to the anus. A definitive diagnosis is made by performing a colonoscopy and biopsy with imaging studies.
What causes IBD? Are certain people more at risk?
IBD causes chronic inflammation of the intestine. This is the result of an abnormal response of the immune system within the gastrointestinal tract to foreign materials such as bacteria or food particles, which are normally present within the intestinal tract. Genetic factors play a role in some patients who may have a family history of IBD.
Does diet and nutrition play a role?
For patients with IBD, diet plays a role during periods of increased symptoms or flare ups. Since the symptoms of IBD vary among patients, no absolute recommendations can be made which apply to all. However, in general, certain types of foods can contribute to worsening symptoms at times and should be avoided during flares. This includes insoluble fiber (think about the types of foods that don't dissolve in water, like the stalks, skins and seeds found in whole grains, nuts and fruits and veggies), lactose, sugars, high fat foods, alcohol, caffeinated drinks and spicy foods.
What are the usual treatments for these types of conditions?
The majority of patients with IBD can be effectively treated with medications.  Various anti-inflammatory and immunosuppressive medications may be prescribed depending on the severity of the intestinal inflammation. Typically, a gastroenterologist will oversee treatment by prescribing medications and making adjustments as necessary.
When is surgery an option that should be considered?
Surgical treatment of IBD is generally reserved for patients who fail to respond to medical treatment and have persistent inflammation contributing to ongoing symptoms. Other patients with chronic inflammation may develop complications including excessive bleeding, intestinal obstruction or perforation, which can lead to the need for surgery.
What is entailed in surgical treatment?
Surgical treatment generally involves removing the diseased segment of the intestine. The majority of operations for IBD can be performed laparoscopically using very small incisions, called laparoscopic surgery, which facilitates quick recovery by reducing discomfort and pain after surgery and allowing for early return to activity and diet.
How long is recovery after colorectal surgery?
The majority of patients recover from minimally invasive surgery in just a few weeks. In most cases, they will be consuming solid food and are capable of most activities.
What is a typical prognosis after surgical intervention?
Surgery for IBD is generally reserved for patients who are no longer responding to medical treatment or those who develop complications from intestinal inflammation. For patients with Crohn's disease, it can reduce significant symptoms from complications of the disease and play an important role for this group of patients. It is important to note that surgery for Crohn's disease is not curative since intestinal inflammation can recur elsewhere in the gastrointestinal tract. Since inflammation caused by ulcerative colitis only affects the large intestine and rectum, patients who require surgery can undergo removal of the diseased intestine and be cured.
Are there any misconceptions people have about colorectal surgery?
Many people assume that if you have colorectal surgery, you will have large incisions and a difficult or prolonged recovery. However, minimally invasive surgery via small incisions is performed in most patients and allows for a much quicker, easier recovery. Another common misconception is that having colorectal surgery will require a colostomy or ileostomy. While a temporary or permanent ostomy is necessary in some cases, 96% of patients do not require a permanent ileostomy or colostomy.
If you want to learn more about colorectal surgery or need an expert colorectal surgeon, visit www.hartfordhospital.org/colorectal. To find a doc, you can also call 860.545.1888.