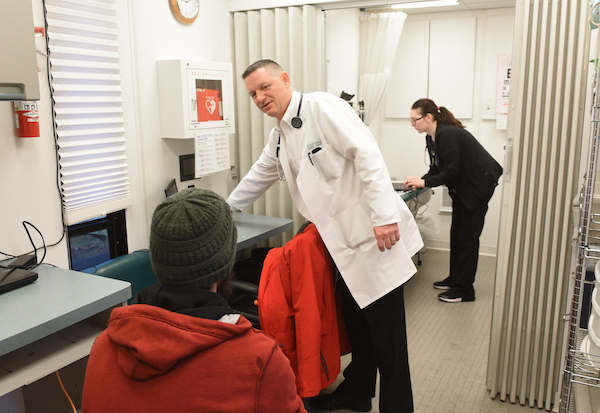 Winter weather can pose many health challenges for the less fortunate in the community.
A partnership between Generations Family Health Center and Backus Hospital Mobile Health Resource Center (MHRC) provides regular walk-in medical care to those in need at The Windham Region No-Freeze Hospitality Center in Willimantic and at St. Vincent de Paul Place Soup Kitchen and Food Pantry in Norwich.
In 2001, the Backus purchased and custom designed a 40-foot Mobile Health Resource Center (MHRC) van, intended to be a "medical center on wheels." During this time, mobile outreach with the van has reached thousands of individuals throughout the region.
Generations provides the medical staff and Backus provides the van equipped with two CDL licensed drivers to visit the two shelters and address medical concerns, administer flu shots and schedule follow-up appointments at Generations Family Health Centers for additional medical, dental or behavioral health visits.
"Providing our MHRC to Generations at no charge so they can deliver health care directly to the shelter and soup kitchen clients is one of the ways we give back to the community," said Lisa Hageman, Regional Director Preventative Medicine & Community Health.
The No Freeze Hospitality Center in Windham provides temporary winter housing between November and April for adults who do not have a safe place to stay in the colder months.  No one is turned away.  The shelter also provides showers, meals, transportation services and additional support including help finding more permanent housing. www.windhamnofreeze.com
St. Vincent de Paul Place serves the underserved in the Norwich area by providing meals, a food pantry, hygiene supplies and care management services including referrals, education and employment services. www.svdpp.org
Hageman also noted that the van has increase coverage at the shelters this year to accommodate the needs of the community.
View the 2019-2020 Mobile Health Van winter schedule below:
Backus Mobile Health Van schedule (St. Vincent de Paul Place-Norwich):
| | |
| --- | --- |
| Monday, Jan. 6 | 8 – 11 a.m. |
| Monday, Jan. 13 | 1:30-3:30 p.m. |
| Monday, Jan. 20 | 8 – 11 a.m. |
| Monday, Feb. 3 | 8 – 11 a.m. |
| Monday, Feb. 10 | 1:30-3:30 p.m. |
| Monday, Feb. 17 | 8 – 11 a.m. |
| Monday, March 2 | 8 – 11 a.m. |
| Monday, March 9 | 1:30-3:30 p.m. |
| Monday, March 16 | 8 – 11 a.m. |
| Monday, March 30 | 8 – 11 a.m. |
Backus Mobile Health Van schedule (Windham Region No Freeze Hospitality Center):
| | |
| --- | --- |
| Friday, Dec. 13 | 8:30 a.m. to 12:30 p.m. |
| Friday, Jan. 10 | 8:30 a.m. to 12:30 p.m. |
| Friday, Jan. 24 | 8:30 a.m. to 12:30 p.m. |
| Friday, Feb. 7 | 8:30 a.m. to 12:30 p.m. |
| Friday, Feb. 21 | 8:30 a.m. to 12:30 p.m. |
| Friday, March 6 | 8:30 a.m. to 12:30 p.m. |
| Friday, March 20 | 8:30 a.m. to 12:30 p.m. |