Hartford HealthCare Rehabilitation Network's Lymphedema program has been named a Center of Excellence in Lymphatic Disease by the Lymphatic Education & Research Network (LE&RN).
LE&RN Conservative Care Centers of Excellence in Lymphatic Disease have been designed to increase access to the best possible  clinical care and services for people affected by lymphedema and their families through a geographically diverse network of local and/or regional clinical centers. Lymphedema is a chronic swelling caused by an accumulation of lymph, a protein-rich fluid transported into the blood by the lymphatic system.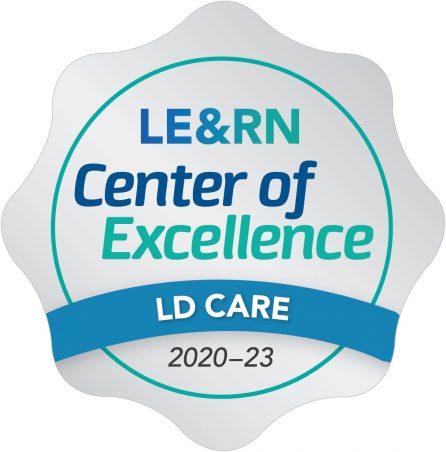 Besides clinical and social services, the Centers provide professional and lay education in the geographic areas they serve, are involved in clinical research and work with LE&RN locally and internationally in its efforts to continually improve the lives of those affected by lymphedema and their families.
"The lymphedema team has been refining the standard of care over the past four years through a competency program that includes annual trainings, SIG's, regular chart audits, and annual observations to ensure the highest quality of care for our patients with lymphedema," said Linda Hodgkins, Clinical Program Manager for Hartford HealthCare Rehabilitation Network. "This designation as a Center of Excellence is a reflection of the perseverance and commitment of the entire team to provide the highest standard of care, and is a celebration of the daily dedication and determination the team has shown.  It is a very proud moment for our team and our patients with lymphedema."
The Center of Excellence designation is granted after vetting of applications to guarantee compliance with set standards for five distinct categories of care created by a team consisting of leaders in lymphatic medicine from Stanford, Harvard, the University of Southern California, University of Chicago, Memorial Sloan Kettering, and UT Health.  The reviewed categories include diagnosis, conservative management services, assessment tools, research and collegiality.
"We couldn't more proud to have our Lymphedema program designated as a Center of Excellence by the Lymphatic Education and Research Network," said Chris Carlin, Vice President of Hartford HealthCare Rehabilitation Network.   "We are very fortunate to have Linda Hodgkins, a national expert in lymphedema care, lead our program and are very proud of the work she and our entire team does each day.  Together they have created a standardized, evidence-based care model that significantly reduces swelling and helps our patients optimize their daily activities.
"The patient-centered approach not only addresses the physical impairments but also helps address the psychosocial aspect lymphedema complications through a community support group.   Over the past several years, we have been able to expand access to these necessary services through the communities we serve."
For information about the lymphedema services provided by Hartford HealthCare Rehabilitation Network, click here.
Not feeling well? Call your healthcare provider for guidance and try to avoid going directly to an emergency department or urgent care center, as this could increase the chances of the disease spreading.

Click here to schedule a virtual visit with a Hartford HealthCare-GoHealth Urgent Care provider.
Stay with Hartford HealthCare for everything you need to know about the coronavirus threat. Click here for information updated daily.
Listen and subscribe to Hartford HealthCare's More Life series on Apple Podcasts by clicking here.
Stay fit. Stay happy. Stay healthy. And keep on top of COVID-19 with Hartford HealthCare's daily text alerts. Subscribe by texting MoreLife to 31996.
---