Some survivors of mass-casualty shootings have only minutes to survive.
"Most of these shooting events are over in 15 minutes and people can bleed to death within five minutes from these severe injuries," says Dr. Lenworth Jacobs, director of the Trauma Institute at Hartford Hospital. "Responses to save victims have to be immediate, fully orchestrated and ready to go, day or night, in any city in the United States."
Dr. Jacobs' efforts to train bystanders in basic first-responder skills — bleeding control and the use of a tourniquet — after the 2012 shootings at Sandy Hook Elementary School in Newtown led to recommendations by the American College of Surgeons that became known as the Hartford Consensus. Dr. Jacobs, chairman of the Hartford Consensus, says a movement that began locally must become a national priority.
"This is everyone's responsibility," he says. "And everyone, from law enforcement to the public has to be part of the solution."
A White House summit last year added urgency to the Stop the Bleed campaign, which uses the Hartford Consensus recommendations to prepare for mass shootings, bombings and other acts of terror.
Dr. Jacobs says bleeding control bags should be accessible in public places like shopping malls, schools, theaters, sports facilities, airports, train stations and other public areas. The bags include tourniquets, gauze, dressings, gloves, shears and other first-aid materials.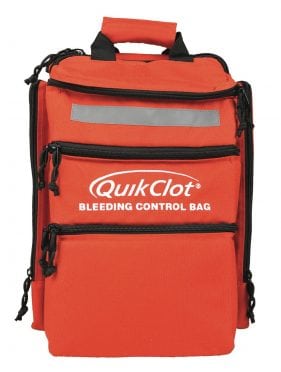 What you should know:
If wounded, whether in a shooting or an accident, always call 911 first. If you see an injured person before first-responders arrive, taking these actions as prescribed by the federal Stop The Bleed program can save a life:
Compress
Find where the bleeding is coming from and apply firm, steady pressure to the bleeding site with bandages or clothing.
Tourniquet
If the bleeding doesn't stop, place a tourniquet 2-3 inches closer to the torso from the bleeding. (The tourniquet may be applied and secured over clothing.)
Pull the strap through the buckle, twist the rod tightly, clip and secure the rod with the clasp or the Velcro strap.
Compress Again
If the bleeding still doesn't stop, place a second tourniquet closer to the torso from the first tourniquet.
Pull the strap through the buckle, twist the rod tightly, clip and secure the rod with the clasp or the Velcro strap.
Please watch the video above for demonstrations of how to apply different tourniquets. For more information, visit BleedingControl.org.
'
---