Oscar Serrano, MD, a transplant surgeon at Hartford Hospital, was recently honored by the National Kidney Foundation with its 2022 Excellence in Care Award, several decades after a childhood friendship inspired his career choice.
The award – in recognition of his "long-standing, exemplary care of chronic kidney disease patients" — is a significant accomplishment for a doctor who immigrated from Mexico when he was 12 and built a career helping people with chronic kidney and liver disease.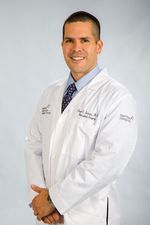 At a recent awards ceremony, Dr. Serrano remembered an older neighbor named Guillermo who gave him rides on his motorcycle before experiencing renal failure that meant he needed a kidney transplant or dialysis.
"I remember reading about how a kidney transplant could change his life," Dr. Serrano said. "Not long after that, Guillermo received a living donor kidney transplant from his brother. After that, we didn't think much about Guillermo's illness, which is indicative of the success of his story."
Today, Guillermo is married with a grown son and runs his own business. He needed a second kidney transplant later in life, which Dr. Serrano said is not unusual for a young organ recipient, but his life "by all accounts would be considered normal."
"Guillermo is fortunate. Stories like his are the reason I became a transplant surgeon," he said. "The surgery is nothing short of amazing with technical intricacies that I often compare to an artist painting or sculpting a masterpiece. But, what captivates my interest is the way we can radically transform the life of a patient with end-organ disease, a patient who is so severely ill their body has begun to shut down.
"We can bring those people back. We can help give them their life back so they can … find the happiness and fulfillment in life that everyone yearns for."
Dr. Serrano, who is on the Connecticut Medical Advisory Board, earned a degree in biochemistry and molecular and cellular biology from the University of Arizona, a medical degree from Stanford University and a master's in business administration in healthcare management from the Johns Hopkins
He joined Hartford Hospital in 2018 with clinical interests in liver and kidney transplantation and pediatric transplantation, an interest he gained from one of the nation's pioneers, the late Dr. Oscar Salatierra, a mentor at Stanford.
"I hear his words, usually when I'm scrubbing my hands before a case. 'You are not meant to be small. You are not here to be just another doctor. You are meant to fight for those that can't fight for themselves."
With that in mind, Dr. Serrano said a goal at Hartford Hospital is to bring equity to transplant. Many populations don't have access to quality healthcare or understand how conditions like uncontrolled blood pressure or diabetes impact kidney health.
"In 2020, the distribution of the kidney transplant wait list was 36 percent white, 32 percent Black and 21 percent Hispanic. The same year, of those fortunate enough to receive a kidney transplant, 45 percent were white, 27 percent were Black and 18 percent were Hispanic," he reported. "There are so many barriers for minority and rural patients to get to me."
In response, he said Hartford HealthCare and the National Kidney Foundation have undertaken "deliberate efforts to improve equity in access to transplantation" that should improve those statistics.
Fluent in Spanish and Italian, Dr. Serrano has published more than 80 articles in professional journals and book chapters, and serves as a reviewer for several surgical, transplant and cancer journals.
---