The Hartford HealthCare Medical Group Thomaston office has welcomed its newest general practitioner Dr. Silda James who will be accepting new patients at 76 Watertown Road, Suite 2F in Thomaston.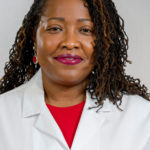 The practice provides comprehensive primary care services with a particular focus on wellness and lifestyle medicine to provide healthier outcomes for patients. Dr. James served as a Hospitalist at Charlotte Hungerford Hospital in Torrington since 2015. Her areas of Interest include preventative medicine, cardiovascular health, diabetes, smoking cessation and nutrition. Dr. James is joining Site Director Dr. Kenrick Hom and APRNs Thayer Clark, Siena Giordano and Melanie Mollica.
"We are truly pleased that one of our own from Charlotte will now be a part of this growing primary care practice in the Thomaston area. Dr. James understands our community and will be a great addition to our regional care team." said Dan McIntyre, President, Charlotte Hungerford Hospital and Senior Vice President, Hartford HealthCare Northwest Region.
Dr. James attended Ross University Medical School, Dominica, West Indies, and completed her Residency/Internship at State University of Brooklyn/SUNY Downstate, Brooklyn NY, in Internal Medicine. She is board-certified by the American Board of Internal Medicine. She is also a member of the American College of Physicians and the Society of Hospital Medicine.
Call 860.880.8091 for information and appointments.
---