Perspective is key to keep people from panicking as the coronavirus spreads to communities across the country, including in states adjacent to Connecticut, according to the U.S. Surgeon General, Vice Admiral Dr. Jerome Adams.
Dr. Adams was in Hartford March 2 as part of a presentation on the opioid epidemic co-sponsored by the Hartford Medical Society and Hartford HealthCare. But, before delving into that subject, he stressed the importance of staying calm and sharing that sense of calmness and focus with people across the state.
"We're seeing more cases (of coronavirus in the United States) but we expected that this was going to happen," he told the audience of about 100. "And, we know what to do – we've been here before with H1N1, SARS, MERS and the flu season in 2009."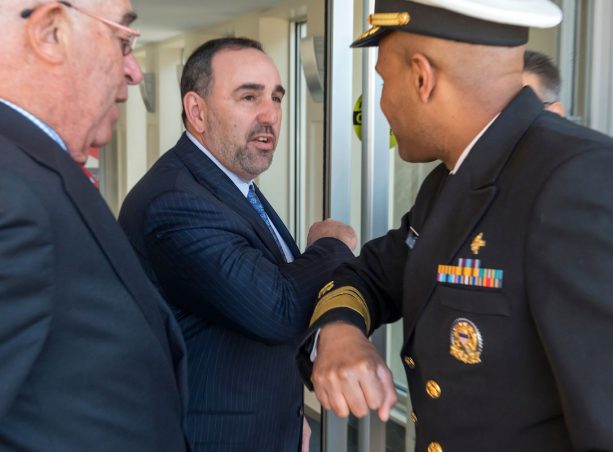 As providers, Dr. Adams said it's vital to stay focused on what can be done – effective hand-washing, sneezing and coughing safely and recognizing signs of coronavirus in case a patient presents with it.
In the meantime, he also urged the providers to share wisdom and compassion with their patients, families and the general community to help them put concerns about the coronavirus outbreak into perspective. They, too, need to be alert to infection control efforts and signs of the disease but not frightened to unnecessary proportions.
Consider, he said, the fact that more than 18,000 people will die from the flu in the United States this year. Coronavirus is not expected to affect nearly as many. The risk of death from flu is real, yet people still resist getting flu shots to protect themselves.
"We need to help folks risk stratify," he said. "As humans, we're terrified of this but there are definite steps we can take.
"There are a lot more things that will put you in the hospital than the coronavirus!"
It will remain key, however, to follow infection-control techniques like proper hand-washing, using alcohol-based gel and covering coughs and sneezes with tissue or a bent elbow in all environments, Dr. Adams continued. (Dr. Adams, above, elbow-bumps Jeff Flaks, Hartford HealthCare's president and chief executive officer.)
"We need to be more vigilant than ever before to protect our patients," he said.
Not feeling well? Call your healthcare provider for guidance and try to avoid going directly to an emergency department or urgent care center, as this could increase the chances of the disease spreading.
For the latest information on the coronavirus, visit www.hartfordhealthcare.org/coronavirus
Stay with Hartford HealthCare for everything you need to know about the coronavirus threat. Click here for information updated daily.
Questions? Call our 24-hour hotline (860.972.8100 or, toll-free, 833.621.0600). 
Get text alerts by texting 31996 with COVID19 in the message field.
---