Through the American Rescue Plan Act (ARPA), St. Vincent's Medical Center has been awarded funding to hire a Community Health Worker (CHW) to serve Bridgeport's most vulnerable populations who are medically underserved.
St. Vincent's was one of several nonprofit organizations to receive grant funding from the city of Bridgeport. ARPA was signed into law by President Biden in March as a way to support state and local governments as they address the health and economic impacts of COVID-19.
"With these opportunities for investment by the federal government and with partners like the individuals and organizations in this room, things are getting better. Things are getting better in the city of Bridgeport, and they're getting better, in large part because of you," said Bridgeport Mayor Joe Ganim at a press conference on Monday.
The grant awarded to St. Vincent's, $225,000 over three years, will cover the expenses for a CHW to help address the social determinants of poor health that disproportionately affect Bridgeport's low-income, minority populations which has been magnified by the pandemic.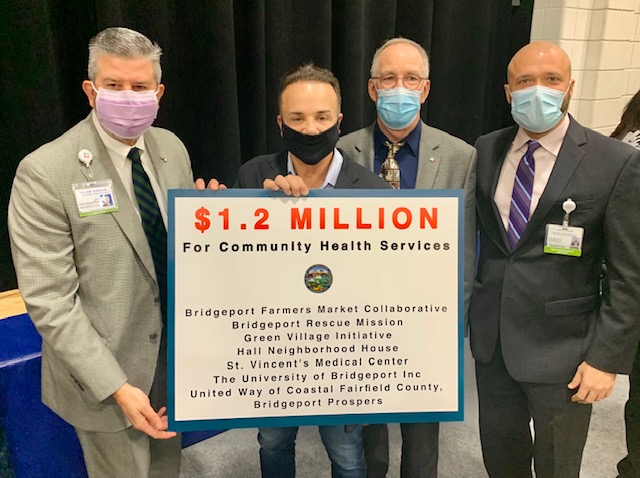 "A CHW is someone with passion, commitment and a familiarity with the community who can assist people by appropriately, quickly and efficiently accessing the care that they need," said Bill Hoey, vice president of mission integration at St. Vincent's. "It is an advocate for the person who's receiving care."
St. Vincent's Medical Center has a longstanding history of combating health disparities through several health and wellness programs, including the Know Your Numbers campaign for health screenings and the Hope Dispensary, which provides free medication to uninsured and underinsured Bridgeport residents. The CHW will assist with these programs as well as screening for health-related social needs and connecting individuals to community resources, and providing access to services such as fresh produce, medication delivery, connecting socially isolated older adults over the phone, and providing a listening ear and empathy.
"Eighty percent of a person's health status is determined by social and environmental factors," said Hoey. "A community health worker could have a significant impact on someone's health status and could go a long way to addressing some of the health disparities and health inequities that exist."
The CHW will eventually be integrated into Hartford HealthCare's Neighborhood Health initiative when it formally launches in the Fairfield region. The Neighborhood Health initiative is designed to bring health prevention services directly to communities through mobile "CareVans" that operate daytime health clinics several times a month.
"As I looked around the room at the press conference I could not help feel anything but enormous pride to be among the leaders and organizations in our community helping others most," said Bill Jennings, President of the Fairfield Region. "Helping those least able to help themselves – the most vulnerable. Our Community Health Worker funded with this grant will be yet another real example of living our Value of Equity."
---