Charlotte Hungerford Hospital's Stroke Center was recently recognized with two awards through the American Heart Association and the American Stroke Association for its commitment to patient care for stroke care.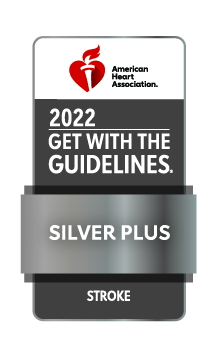 The American Heart Association and the American Stroke Association proudly recognizes Charlotte Hungerford Hospital with it's Get with Guidelines – Stroke Bronze Award and Silver Plus Achievement Award.
Both awards recognize the use of evidence-based treatment to improve patient care and outcomes for stroke treatment in the communities we serve.
Earlier this spring CHH was certified as a Primary Stroke Center by the Joint Commission. The Stroke Center, now part of Hartford HealthCare's Ayer Neuroscience Institute, offers a more patient-centric approach that provides an exceptional experience for patients and their families. In the past, someone in the region who experienced a stroke would be stabilized and transferred out to another facility with stroke certification for continued care. Now the majority of the stroke patients will be able to remain at CHH in Torrington.
CHH submits its stroke core measures as well as all optional quality measures.
Stroke quality measures include: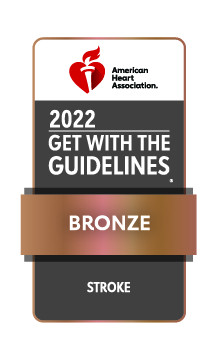 Dysphagia Screening.
Stroke Education.
Rehabilitation Considered.
Time to Intravenous Thrombolytic Therapy.
LDL Documented.
Intensive Statin Therapy.
IV rt-PA 3.5 Hrs. (Arrived by 3.5 hours TX by 4.5 hours).
NIHSS Reported.
Stroke is the number five cause of death and a leading cause of disability in the U.S. A stroke occurs when a blood vessel that carries oxygen and nutrients to the brain is either blocked by a clot or bursts. When that happens, part of the brain cannot get the blood and oxygen it needs, so brain cells die. Early stroke detection and treatment are key to improving survival, minimizing disability and accelerating recovery times.
Get With The Guidelines puts the expertise of the American Heart Association and American Stroke Association to work for hospitals nationwide, helping ensure patient care is aligned with the latest evidence and research based guidelines. Get With The Guidelines – Stroke is an in-hospital program for improving stroke care by promoting consistent adherence to these guidelines, which can minimize the long-term effects of a stroke and even prevent death.
Each year, program participants qualify for the award by demonstrating how their organization has committed to providing quality care for stroke patients. In addition to following treatment guidelines, Get With The Guidelines participants also educate patients to help them manage their health and recovery at home.
---