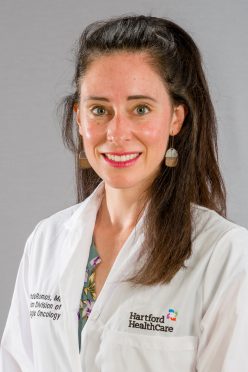 If you're a woman, or have a wife, daughter, mother or sister – you'll want to hear this.
A recent study in the International Journal of Gynecological Cancer found that advanced-stage cervical cancer is on the rise in the United States among white and Black women.
"I am seeing more women come to me with advanced cervical cancers," says Amanda Ramos, MD, gynecological oncologist at the Hartford HealthCare Cancer Institute at The Hospital of Central Connecticut. "I think that during COVID there was a decrease in the number of pap smears, and patients didn't have good access to cervical cancer screening at that time."
What are the signs of cervical cancer?
Some indicators of cervical cancer include:
Vaginal bleeding between periods.
Bleeding after menopause.
Persistent pelvic and/or back pain.
Pain or bleeding after intercourse.
Vaginal discharge.
> Schedule an appointment with a cancer specialist
What type of screenings help detect cervical cancer?
"It's estimated that 98% of cervical cancers are caused by the human papillomavirus (HPV), so getting the HPV vaccine is one of the biggest ways you can protect yourself from cervical cancer," says Ramos. She adds that going to your gynecologist once a year for a pelvic exam and routine pap smear is important when it comes to detection.
Do other cancers affect women's reproductive organs?
Other types of cancers that affect women's reproductive organs include:
Ovarian cancer: Forms in the ovaries
Uterine cancer: Found in the lining and muscle layer of the uterus
Vaginal cancer: Usually forms in lining of the vagina
> Want more health news? Text StartHere to 85209 to sign up for text alerts
Who is most at risk?
"There's a wide age range from 20s to 90s, but the average age of diagnosis is among women in their 60s," says Ramos. "Talking to your doctor about screening is key. Listening to your body is important, too. With any of these gynecological cancers, bleeding, pain, or change in bowel habits are all signs that something could be wrong. As with most cancers, the earlier it's detected, the better outcomes we see."
---