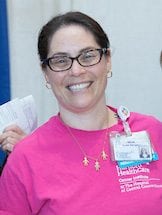 Noa Mencher, Thoracic nurse navigator at the Hartford HealthCare Cancer Institute at The Hospital of Central Connecticut (HOCC), remembers vividly how lung cancer touched her life.
"A very, very close friend of my parents, someone who was like an uncle to me, died from lung cancer," said Mencher. "I was actually with him the night he died, in Israel, and giving him his medication up until he passed away."
In her professional role, Mencher sees the devastating effects of lung cancer too. She oversees the lung cancer screening program and is a tobacco treatment specialist at HOCC.
One way she fights back is by leading the HHC team at the annual Hartford Free to Breathe Walk, which raises money for research and patient programs. Last year, Mencher raised more than $2,000 while leading the HHC team, which is typically made up of employees and patients from the HOCC Cancer Institute. This year's walk is Oct. 8 at Rentschler Field in
East Hartford.
While most people associate lung cancer with smoking, Mencher said that they are seeing more and more patients who are young, non-smokers.
"Lung cancer is the number one cancer killer, but it's not the number one cancer diagnosis," said Mencher. "While it is true that most lung cancer is from smoking, it's not the only reason. People who are exposed to chemicals – like those in factories or in the automotive industry – can also get lung cancer. We are more frequently finding lung cancer in younger people, including those under 40."
Mencher said regular screening can help catch cancer before it's too late.
"Non-smokers can get lung cancer too and the symptoms are similar to someone who smokes, but people don't come to their doctor until it's too late," said Mencher. "We do offer screenings [at the HHC Cancer Institute at HOCC] and insurance pays for them for people between the ages of 55 and 77.
Lung cancer screening is done with a low-dose CAT scan of the chest. It's hard for people to sometimes know what is going on in their lungs without seeing a doctor," Mencher said.
To donate or join the HHC Free to Breathe walk team, click here.