Thanksgiving is about getting together with family and friends to share a delicious meal. Even though it might look a little different in many households this year because of COVID-19 safety concerns, that doesn't mean it won't be just as delicious.
Whether you're cooking for a smaller crowd or participating in a virtual meal with family and friends, you can make a dish using colorful and tasty vegetables, fruits, beans, whole grains and nuts.
Here are some delicious options to help you plan this year's Thanksgiving menu:
Appetizer:
Avocado Deviled Eggs
This appetizer is packed with protein and B-vitamins from the eggs, as well as heart-healthy fat and fiber from the avocados. The addition of traditional guacamole ingredients — such as lime, cilantro and tomato — added to the filling bring an extra punch of flavor. Serving the guacamole-filling in egg halves helps provide a portion-controlled appetizer for the perfect bite before the main course.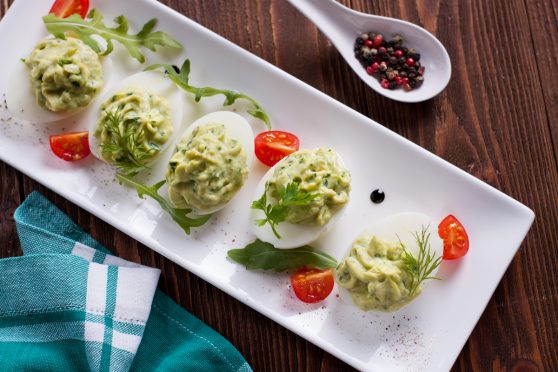 Ingredients
12 eggs
2 medium avocados, chopped
1 medium tomato, chopped
2 Tbsp. red onion, finely chopped
1 clove garlic, minced
1 Tbsp. cilantro, finely chopped
1 Tbsp. fresh lime juice
1/4 tsp salt
Sprinkle of paprika
1/2 jalapeño pepper, minced (optional)
Makes 12 servings (2 egg halves). Per serving: 130 calories, 10 gram total fat (0 g trans-fat), 185 mg cholesterol, 4 g carbohydrates, 7 grams protein, 2 grams dietary fiber, 120 mg sodium, 1 gram sugar, 0 grams added sugar.
Directions
Hard-boil eggs by placing eggs in an even layer in a large pot covered by 2 inches of cold water. Heat pan on high and bring to a rolling boil. Immediately turn off heat, cover pot with lid and let eggs sit on hot burner for 10 minutes.
Transfer eggs to bowl of ice water to cool; peel eggs.
Slice eggs lengthwise and scoop out yolks; place yolks in large mixing bowl.
Add avocados to yolks and mash with fork until completely mixed.
Add remaining ingredients, except paprika. Stir to combine.
Carefully scoop about 1 Tbsp. of mixture into each egg white half.
Sprinkle with paprika to garnish.
Top with jalapeño, if using.
Salad:
Kale, Butternut Squash and Pomegranate Salad
A perfect combination of savory and sweet. This colorful, nutrient-rich salad will become a favorite addition to your Thanksgiving meal. The crunch from the walnuts and pomegranate seeds provides a nice contrast to the soft, roasted butternut squash. The flavors are all brought together with a bright lemon maple vinaigrette.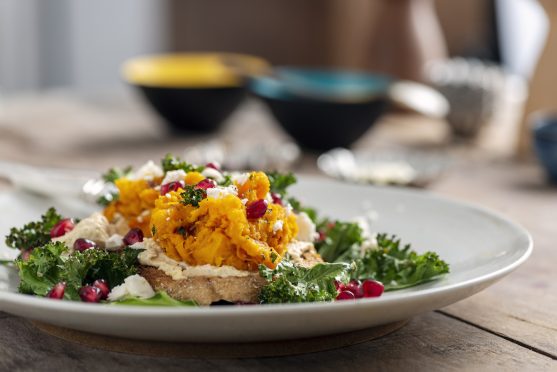 Ingredients
1 large butternut squash (about 3 pounds), peeled, cut into 3/4-inch cubes
1/4 cup olive oil, divided
5 cloves garlic
1/2 tsp. turmeric
1/4 tsp. salt
Freshly ground black pepper, to taste
1/2 cup chopped walnuts*
2 large bunches Tuscan kale, stemmed and thinly sliced
1/4 cup lemon juice, divided
Sea salt, to taste
1 Tbsp. apple cider vinegar
1 tsp. pure maple syrup
1 Tbsp. Dijon mustard
1 shallot, finely chopped
1 cup pomegranate seeds
Makes 8 servings (1.5 cup per serving). Per serving: 200 calories, 11 grams total fat (1.5 grams saturated fat, 0 grams trans-fat), 0 mg cholesterol, 24 grams carbohydrates, 6 grams protein, 6 grams dietary fiber, 110 mg sodium, 9 grams sugar, 2 grams added sugar.
Directions
Preheat oven to 400°F.
Place squash cubes on baking sheet, drizzle 1 tsp. olive oil over squash. Add whole garlic cloves, turmeric and salt and pepper, to taste. Toss to evenly coat squash with oil and spices. Spread cubes evenly around pan and roast for 30-40 minutes until squash is tender.
While squash is roasting, heat 1 tsp. olive oil in small skillet over medium-high heat. Add walnuts and cook, stirring occasionally until golden brown, 2–3 minutes. Set aside.
Place kale in bowl. Add 2 Tbsp. lemon juice and pinch of sea salt and massage into kale to wilt. Set aside.
When squash and garlic are cooked, remove garlic and put squash in a separate bowl. Add remaining olive oil, lemon juice, vinegar, syrup, mustard and shallot; pulse in food processor until smooth to create a dressing.
In large mixing bowl, combine kale with about 3/4 of dressing, and toss until kale is lightly coated. Add more dressing to taste and reserve any leftover for another use.
Add roasted squash and pomegranate seeds to kale; toss to combine. Transfer to serving bowl; top with toasted walnuts.
*You may substitute pumpkin seeds or sliced almonds for the chopped walnuts.
Soup:
Carrot and Apple Soup
This fall soup is full of deep orange carrots and bright red apples.
A colorful representation of the changing season. Both foods contain fiber and other potent protective compounds like beta-carotene (carrots) and quercetin (apples). A blender or food processor makes this dish creamy without a lot of calories.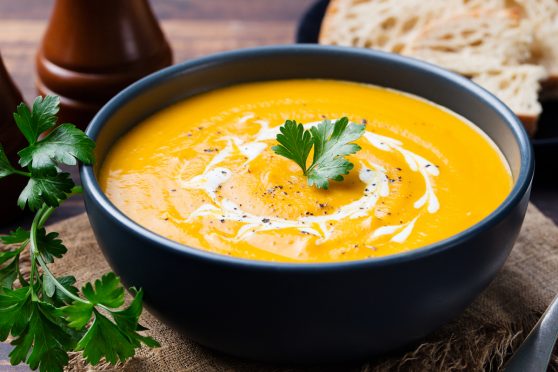 Ingredients
1 Tbsp. canola oil
1 medium onion, chopped
1 medium leek, white part only, rinsed well and chopped
1 pound carrots, peeled and cut into 1/2-inch slides
1 tart apple, peeled, cored and chopped
3 cups fat-free, reduced-sodium chicken broth
Salt and freshly ground black pepper, to taste
3 Tbsp. minced fresh mint leaves, for garnish
Makes 6 servings (about 1 cup per serving). Per serving: 80 calories, 2.5 grams total fat (0 grams saturated fat, 0 grams trans-fat), 0 mg cholesterol, 15 grams carbohydrates, 2 grams protein, 3 grams dietary fiber, 240 mg sodium, 9 grams sugar, 0 grams added sugar.
Directions
In a Dutch oven or large pan, heat canola oil over medium-high heat until hot. Add the onion and leek and sauté for about 4 minutes, until the onion is translucent.
Mix in carrots and apple. Reduce heat to medium-low, cover, and cook for 5 minutes, stirring often.
Add broth, cover, and bring to a boil over high heat. Then reduce heat to low and simmer for about 30 minutes, until carrots are soft. Remove pot from heat and set soup aside to cool slightly.
In a blender or food processor, puree soup in batches until smooth. Return soup to pan and heat before serving. If soup is too thick, add more broth, as desired. Season to taste with salt and pepper. Serve immediately, garnishing each serving with mint.
Main Course:
Herb Roasted Turkey Breast and Vegetables
If you don't need to make a whole turkey this season, try a simple roast. Individual turkey breasts are seasoned with flavorful herbs and when cooked together with a medley of vegetables, it adds healthy nutrients and saves you some time.
Root and cruciferous vegetables like Brussels sprouts, sweet potatoes and carrots are packed with fiber and phytochemicals.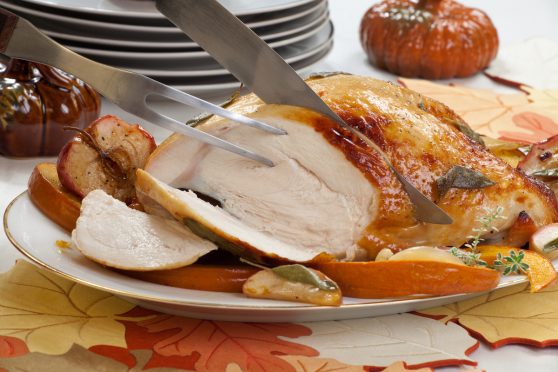 Ingredients
2 Tbsp. olive oil
4 sprigs fresh rosemary, or 1 1/2 tsp. dried
3 sprigs sage, or 1 tsp. dried
5 sprigs fresh oregano, or 1 tsp. dried
4 cloves garlic, peeled
1 tsp. salt
1/2 tsp. black pepper
2 (2.5 lbs. each) bone-in, skin-on turkey breasts
6 shallots, peeled and halved
1 cup low-sodium chicken broth
2 large sweet potatoes, scrubbed and chopped into 1-inch cubes
1.5 lbs. Brussels sprouts, halved
1 lb. whole carrots, tops removed and sliced in half lengthwise
Makes 10 servings (4-5 oz). Per serving: 410 calories, 10 grams total fat (2 grams saturated fat, 0 grams trans-fat), 90 mg cholesterol, 19 grams carbohydrates, 61 grams protein, 2 grams dietary fiber, 710 mg sodium, 9 grams sugar, 0 grams added sugar.
Directions
Preheat oven to 425° F.
Place oil, rosemary, sage, oregano, garlic, salt and pepper in food processor and pulse until finely chopped.
Gently pull skin back from turkey breast halves. Rub ½ of oil-herb mixture all over turkey breasts, both under skin and then on top.
Arrange 6 shallot halves each on two large, deep baking pans.
Set turkey breasts on top of shallots and add ½ cup chicken broth to each pan. Roast for 60 minutes.
While turkey is roasting, toss sweet potatoes, Brussels sprouts and carrots with remaining oil-herb mixture in large bowl. Set aside.
Remove turkey from oven and transfer turkey and shallots to cutting board. Carefully drain the broth (can save for gravy, if desired) from both pans.
Divide and spread sweet potatoes, Brussels sprouts (flat side down) and carrots over both baking pans in an even layer. Place turkey and shallots on top of vegetables and roast until turkey registers 165° F on meat thermometer and vegetables are golden brown, about 60 to 75 minutes more. Note: If vegetables or turkey skin are starting to burn, lightly tent the pan in foil.
Transfer turkey to clean cutting board and let rest for at least 10 minutes before slicing. Serve with roasted vegetables.
Dessert:
Pear Crisp
Looking for a warm, comforting and healthy dessert? Pears are a good source of fiber and vitamin C and even provide some potassium. The oats in this recipe provide whole grains and added fiber, while walnuts will give you a healthy dose of omega-3 fatty acids.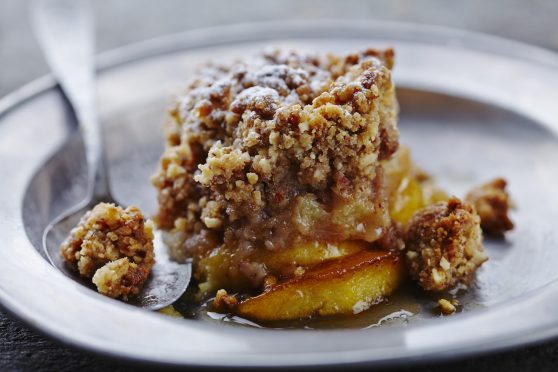 Ingredients
1/4 cup rolled oats
1 Tbsp. walnuts
5 Tbsp. all-purpose flour, divided
3 Tbsp. whole wheat flour
2.5 Tbsp. light brown sugar, packed
1/8 tsp. cinnamon
1 Tbsp. plus 2 tsp. canola oil
6 firm, yet ripe, pears, peeled (if desired), cored and cubed
1/4 cup raisins
1 Tbsp. lemon juice
2 Tbsp. white sugar
1/8 tsp. nutmeg
1/8 tsp. cloves
Makes 8 servings. Per serving: 150 calories, 4 grams total fat (0 grams saturated fat, 0 grams trans fat), 0 mg cholesterol, 26 grams carbohydrates, 2 grams protein, 4 grams dietary fiber, 0 mg sodium, 17 grams sugar, 6 grams added sugar.
Directions
Preheat oven to 375 degrees F. Lightly spray 8- inch baking dish and set aside.
In food processor, pulse oats and walnuts 15 seconds. Add 3 Tbsp. all-purpose flour, whole wheat flour, brown sugar and cinnamon. Pulse 15 more seconds. While running, drizzle oil and blend 30 seconds. Transfer to bowl and set aside.
In another bowl, toss pears with remaining ingredients. Spoon pears into prepared baking dish. Cover with oat mixture, pressing down gently.
Bake 45-50 minutes, until topping is brown and pears are bubbling. Serve hot.
Drink:
Ginger and Turmeric Hot Cider
Warm apple cider is the perfect comfort drink for fall and winter. Add ginger and turmeric for a nutritious and unique flavor. Fresh ginger contains a pungent substance called gingerol, while turmeric gets it characteristic yellow hue from the class of compounds, curcuminoids. Both are known for their anti-inflammatory and antioxidant properties.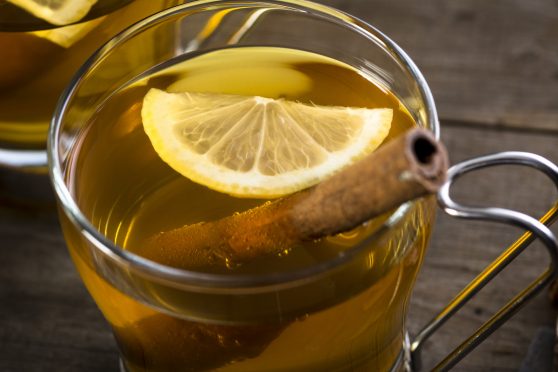 Ingredients
1 cup fresh sweet apple cider
1 tsp. grated fresh ginger
1 tsp. grated fresh turmeric
1 strip (1/2-inch by 1/2-inch) lemon peel, white part included
Dash cinnamon, optional
Makes 1 serving (1 Cup). Per serving: 130 calories, 0 g total fat (0 g saturated fat, 0 g trans-fat), 0 mg cholesterol, 31 grams carbohydrates, 0 grams protein, 1 gram dietary fiber, 25 mg sodium, 26 grams sugar.
Directions
In small saucepan, combine cider, ginger, turmeric and lemon peel. Over medium-high heat, heat until ring of bubbles appears around edge of pan, 3 minutes.
Cover pan and set aside to steep for 5 minutes.
Pour hot-spiced cider through fine tea strainer into mug and add dash of cinnamon if using. Serve immediately
Have a happy, healthy and safe Thanksgiving!
Recipes courtesy of the American Institute for Cancer Research (aicr.org).
Sharon Knight is a transplant dietitian with the Hartford Hospital Transplant Program.
---