When an organ becomes available, there is no limit to the lengths that Dr. Patricia Sheiner and her team will go to locate a patient in need of a transplant. They've had patients paged in movie theaters and grocery stores and have called local police departments to track them down.
"Getting an organ is like winning Lotto," said Sheiner, director of Transplant for Hartford Hospital. "The list is very fluid. If you miss one, the next one available may not be yours."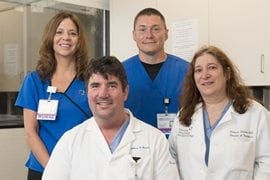 So when five livers, six kidneys and a heart became available in the same 10-day period in April, Sheiner's team took extraordinary steps to make sure each would-be recipient hit the jackpot.
Under any circumstances, performing 12 transplants in 10 days is an amazing feat. But this team did it under unusual circumstances: two of the transplant surgeons were away.
A liver transplant takes about six hours; a kidney, nearly four; and a heart, about four.
The Transplant staff usually performs about 60 kidney, 20 liver and 15 heart transplants a year
"To do that many in 10 days is incredible," Sheiner said. "You never say no to an organ. If you get five in a week, you do five. We have people waiting for transplants and when we get an appropriate organ, whether in the middle of the night or on a weekend, we mobilize our team to do it."
Transplantation includes the work of the entire hospital, she pointed out. "The operating room staff, social work, financial coordinators, psychologists, quality specialists to ensure regulatory issues are met, the blood bank, the tissue lab, anesthesiologists, a host of people," she said. "Transplants can't be done without an entire hospital supporting them. It really takes a village. The infrastructure is so important."
"This work is very rewarding," said C.J. Zensick, RN, transplant nurse coordinator. "It's always challenging. To do six transplants in one weekend was exciting."
"It's fascinating," said Gina Baixauli, RN, transplant nurse coordinator. "I love my patients. We become their family. I got married five years ago and my patients wanted to come."
"After a transplant, we see the patient twice a week at the office," said Sheiner. "We become their family doctors. We see lives change."
---