Dr. Andrew L. Salner, Medical Director of Hartford HealthCare Cancer Institute at Hartford Hospital, answers some questions of interest to cancer patients during the COVID-19 pandemic.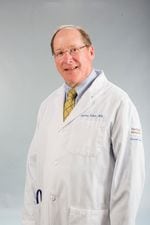 Q: Why are people with a cancer diagnosis at a higher risk for COVID-19?
A: Many people with a cancer diagnosis are undergoing treatments that suppress the immune system. It's the treatment that makes them more vulnerable to infection. Occasionally, the cancer diagnosis itself impairs immune function. For example, selected types of blood and bone marrow cancers may impair immune function. Cancer may impair organ function, thus increasing risk. With impaired organ function, people have a harder time withstanding a severe illness.
Q: How much will the risk increase for people who have cancer?
A: We are not sure yet. Reports suggest that people with cancer had worse outcomes compared with the general population, but the information doesn't account for other factors: age, tobacco use, or comorbidities such as diabetes, heart and lung disease.
We believe people with active cancer, or those receiving immunosuppressive treatments, have the highest risk. Those who have undergone a bone-marrow transplant may be at particularly high risk. Cancer survivors without evidence of active cancer and who aren't receiving immune-suppressing treatments likely have a lower risk, particularly if they are greater than 6 months after therapy.
> Want more health news? Text StartHere to 85209 to sign up for text alerts
Q: Will people with cancer have the same COVID-19 symptoms as the general population?
A: Usually, cancer patients will have similar symptoms, but not always. Cough and shortness of breath are common symptoms of COVID-19 infection and would be expected to be common in cancer patients with the infection as well. But people with cancer may not develop the high fever due to immune-suppressing treatments.
If a person has cancer and develops a cough and other respiratory symptoms, even without a fever, they should discuss with their provider. Patients may have cough or dyspnea related to their underlying cancer diagnosis (lung cancer in particular). Patients should not assume that these are due to their disease especially if they are worsening, and instead should let their team know as they could be COVID-related.
Q: Do people with cancer need to take extra precautions?
A: Cancer patients should take the same precautions and be extra vigilant.
Family members or anyone they are exposed to while isolating must also follow the precautions, which are:
Frequently wash your hands or use hand sanitizer that has an alcohol content of at least 60 percent.
Don't touch your eyes, nose and mouth.
Stay a minimum of 6 feet away from others, especially those who are sick.
Steer clear of groups of six or more people.
Wear a face mask. The CDC now recommends doing so in public, especially in places where you may be near other people.
Disinfect frequently-touched items.
Avoid nonessential travel.
Use telehealth services for routine visits when possible.
Q: What lifestyle recommendations do you have for people with cancer during isolation?
A: It is vital for people who have cancer to prioritize healthy habits, such as:
Activity: Take time to stay active in some way. For example, march in place while you're watching the news. Go for a walk, if you can avoid crowds. Do some exercises to stretch.
Nutrition: Try to maintain proper nutrition, including a balanced diet with enough fresh vegetables and fruit.
Sleep: Try to get enough quality sleep.
Stress: Use yoga, meditation, exercise and other integrative measures to help reduce stress.
Q: Should people with cancer continue to receive their treatments?
A: Patients need to discuss individual treatment plans with their provider. There are instances where treatments can be delayed, but if doctors deem a treatment necessary, then they will find ways to ensure it can be given as safely as possible. Doctors and cancer centers are using innovative approaches, such as:
Fewer trips: Many centers are devising and using protocols that may lower the number of treatments people receive in order to reduce trips to the cancer center.
Alternate treatment delivery: Doctors may choose alternate treatment regimens, such as a shorter radiation course or the use of an oral chemotherapy medication instead of one delivered intravenously.
Virtual visits: Patients can often receive a routine evaluation through telehealth.
Preventive measures: Centers are limiting visitors and screening everyone for fever, cough or symptoms. They may also have fewer people receiving treatment at one time.
Q: What does this mean for those who haven't yet started cancer treatment?
A: Like everyone dealing with this crisis, we don't know if this is going to last for weeks or months. Cancer centers are actively developing guidelines to ensure that we can safely deliver treatments, assuming our resources are available and not constrained by the effects of the virus. We will do our best not to withhold treatment from newly diagnosed patients who need it; our patients' health and safety is our top priority.
Doctors will consider many factors, including the stage and type of cancer (for example, some are slow-growing), to determine the next steps of your care. They may discuss your case with other doctors on the team to determine various options and which one might be optimal. They may make adjustments they feel are safe. For example, your doctor may delay surgery and instead use other treatments instead.
Talk with your doctor about any concerns you have. We want you to feel confident and safe in your care.
Dr. Andrew L. Salner is Medical Director of Hartford HealthCare Cancer Institute at Hartford Hospital. For more information about the Cancer Institute, click here.
Not feeling well? Call your healthcare provider for guidance and try to avoid going directly to an emergency department or urgent care center, as this could increase the chances of the disease spreading.

Click here to schedule a virtual visit with a Hartford HealthCare-GoHealth Urgent care doctor.
Stay with Hartford HealthCare for everything you need to know about the coronavirus threat. Click here for information updated daily.
Questions? Call our 24-hour hotline (860.972.8100 or, toll-free, 833.621.0600). 
---