Hartford Hospital has been ranked No. 1 in the Hartford Metro Area and among the best  hospitals in Connecticut for 2020-21 by U.S. News & World Report.
The annual U.S. News Best Hospitals rankings and ratings, now in its 31st year, are designed to assist patients and their doctors in making informed decisions about where to receive care for challenging health conditions or for common elective procedures.
This year, Hartford Hospital ranks in one specialty and eight procedures.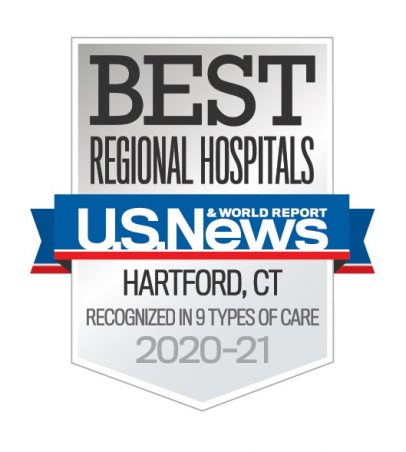 "It is an honor to be recognized, once again, as the best hospital in the region," said Bimal Patel, President of Hartford Hospital and Senior Vice President of Hartford HealthCare. "Our community relies on us to always provide the highest quality and safest care. This has never been more apparent than during the COVID-19 crisis. This recognition is a true a testament to our dedicated staff and their unwavering commitment to excellence."
For the 2020-21 rankings and ratings, U.S. News evaluated more than 4,500 medical centers nationwide in 16 specialties, 10 procedures and conditions. In the 16 specialty areas, 134 hospitals were ranked in at least one specialty. In rankings by state and metro area, U.S. News recognized best regional hospitals based on high performing rankings across multiple areas of care.
Hartford Hospital High-Performing Specialties:
Hartford Hospital High-Performing Procedures:
Colon Cancer Surgery
Lung Cancer Surgery
Heart Failure
Aortic Valve Surgery
Heart Bypass Surgery
Hip Replacement
Knee Replacement
Chronic Obstructive Pulmonary Disease
For more information about Hartford Hospital, click here.
Not feeling well? Call your healthcare provider for guidance and try to avoid going directly to an emergency department or urgent care center, as this could increase the chances of the disease spreading.

Click here to schedule a virtual visit with a Hartford HealthCare-GoHealth Urgent Care provider.
Stay with Hartford HealthCare for everything you need to know about the coronavirus threat. Click here for information updated daily.
Questions? Call our 24-hour hotline (860.972.8100 or, toll-free, 833.621.0600). 
Get text alerts by texting 31996 with MoreLife in the message field.
---