Charlotte Hungerford Hospital Adult and Pediatric Urology in Torrington was recently designated an UroLift Center of Excellence. The designation recognizes that Dr. James Devanney has achieved a high level of training and experience with the UroLift System, an FDA-cleared Prostatic Urethral Lift procedure using proven, minimally invasive technology used to treat lower urinary tract symptoms.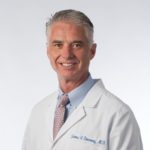 The UroLift System uses a revolutionary approach to treating Benign Prostatic Hyperplasia (BPH), a condition in which the prostate enlarges as men age. BPH affects nearly 40 million Americans and 500 million men worldwide. Symptoms of BPH often include interrupted sleep and urinary problems and can cause loss of productivity, depression and decreased quality of life.
"Using the UroLift procedure demonstrates our commitment to exemplary care for men suffering from symptoms associated with BPH, also referred to as enlarged prostate," said Dr. Devanney. "It is recommended for the treatment of BPH in both the American Urological Association and European Association of Urology clinical guidelines and I'm pleased to offer this option. Our goal is to relieve symptoms so patients can get back to normal life and resume daily activities."
UroLift is the only BPH treatment performed by an urologist that does not require heating, cutting or removal of the prostate tissue. The procedure is typically performed using local anesthesia as an outpatient, and patients usually return home the same day without a catheter.
Dr. Devanney has been using UroLift for several years. He received the Center For Excellence designation from Teleflex, a global provider of medical technologies, after completing physician training, performing a minimum of 60 cases annually, participating in clinical educational events annually, and documenting improvement in outcomes.
"We congratulate Dr. Devanney on this achievement. His use of this innovative procedure has helped many area patients experience durable, long- term relief from the burdensome symptoms of BPH." said Daniel J. McIntyre, President, Charlotte Hungerford Hospital and Senior Vice President, Hartford HealthCare Northwest Region.
Adult and Pediatric Urology at Charlotte Hungerford Hospital in Torrington offers comprehensive adult and pediatric services to treat diseases and conditions affecting the urinary system. Our urologists use the latest diagnostic and therapeutic technologies, including non-surgical and minimally invasive treatment for quicker recoveries. The practice accepts most major insurances.
For information on the practice and the UroLift procedure, call 860.496.8990.
---