Our weekly NFL report evaluates injuries to players of local (Patriots, Giants and Jets) or national interest with commentary by a sports orthopedic specialist from the Bone & Joint Institute at Hartford Hospital. Sign up for automatic delivery to your inbox (click here and scroll to "Free email newsletters").
Player: Zach Miller, Chicago Bears tight end.
Injury: Torn popliteal artery in his left leg.
How it happened: Miller dislocated his knee on a third-quarter play, first ruled a touchdown before being overturned, during the Bears' 20-12  loss Oct. 29 to the New Orleans Saints. Emergency surgery that night at University Medical Center in New Orleans repaired the damaged popliteal artery in his leg. ESPN reported that the artery was "shredded from above the knee joint to below the knee." Miller, the network said, was in danger of losing the leg.
Expected time missed: Because of the vascular damage, the injury could be career-ending.
Dr. Clifford Rios, Bone & Joint Institute orthopedic surgeon and board-certified in sports medicine: "A knee dislocation is the worst of the worst. In broad terms, the knee is stabilized by four ligaments — the anterior cruciate ligament, posterior cruciate ligament, medial collateral ligament and lateral collateral ligament.  A knee dislocation means that at least three, and sometimes all four, of these ligaments are ruptured.  It is a very high-energy injury and there is risk of nerve and blood vessel damage when this occurs."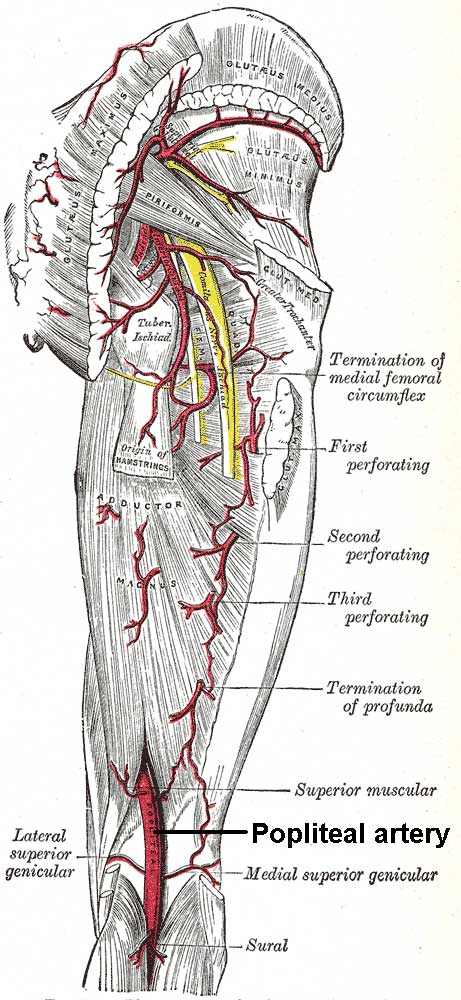 What's a popliteal artery?: It's an extension of the femoral artery after it routes through the thigh and, as it reaches the popliteal area in back of the knee, splits into the anterior and posterior tibial arteries. It is the primary blood supply to the leg below the knee, which explains the urgency of Miller's treatment. If blood flow is not restored within six hours, the patient risks losing the leg. Mark Bowen, the Bears' team doctor, was credited with identifying the vascular emergency by noticing Miller's dropping pulse.
Comparable cases: Napoleon McCallum, a former Los Angeles Raiders running back, didn't play again after doctors replaced his popliteal artery in 1994 after his leg was twisted severely in a game against the San Francisco 49ers. Robert Edwards, a New England Patriots running back, likewise injured his knee while playing flag football on Waikiki Beach in 1999 after his rookie season. Although he avoided having his leg amputated below the knee, doctors told him he might not walk again. Edwards, in fact, resumed his football career in 2002  in a part-time role with the Miami Dolphins. In 2005, he rushed for more than 1,000 yards with the Canadian Football League's Montreal Alouettes.
Running back Willis McGahee, while at the University of Miami, suffered a torn ACL, PCL and MCL in the national championship Fiesta Bowl following the 2002 season. McGahee, whose injury did not include vascular damage, was drafted in the first round by the Buffalo Bills in 2003.
What's next after a knee dislocation with vascular damage? Multiple orthopedic surgeries to reconstruct the torn ligaments.
"The popliteal artery is the primary blood supply for the entire lower leg and this artery is at high risk for injury with a knee dislocation," says Dr. Rios. "Nerve injury, ranging from a brief period of numbness to complete paralysis of some of the muscles to the ankle, can also occur with a knee dislocation. In this case, an injury to the popliteal artery occurred and this is what required emergency surgery.  If this injury was not treated he would have been at risk for permanent muscle damage or, worst case, amputation.  It will take some time before he is ready to undergo ligament surgery because the artery injury needs time to heal before planning a large surgical procedure."
Outlook: Miller could face even more problems if he suffered damage to two branches of the sciatic nerve, the common peroneal nerve and the tibial nerve.
Best-case scenario? "Nine or 10 months," says Dr. Rios, " but I would say the prognosis to return is guarded, at best. You do not see players coming back from this injury at the same capacity, or at all.  If he required a stent or a bypass to treat his arterial injury, it is unlikely that anyone would recommend he return to a contact sport. "
Dr Clifford Rios, a sports medicine surgeon with Orthopedic Associates of Hartford, is Site Director for orthopedic resident education at the Bone & Joint Institute. Click here to find out why the Bone & Joint Institute is the athlete's choice, with a Motion Lab for performance analysis, the area's most comprehensive sports rehabilitation facility and 30 fellowship-trained orthopedic surgeons.