Some patients leaving the hospital after a serious injury or illness require intensive therapy to regain their independence and return home safely. Today, many of these patients are transferred to other facilities outside of our system.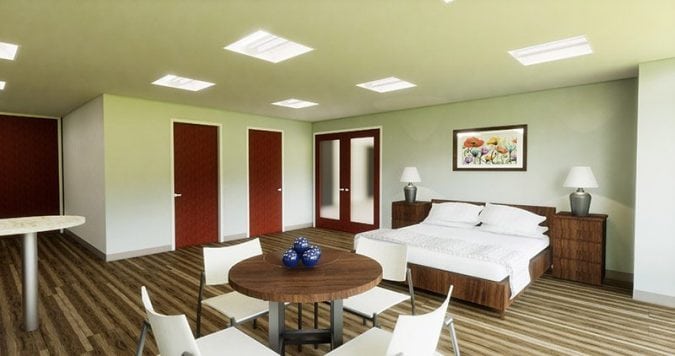 But now, Hartford HealthCare has that kind of option within our system: a 26-bed inpatient rehabilitation unit located in Hartford Hospital's Conklin building.
"It's our vision to provide personalized coordinated care. Our new unit is another way we're bringing that vision to life," said Jeffrey A. Flaks, president and chief operating officer of Hartford HealthCare. "We're providing expert rehabilitation to our patients across our entire continuum, from hospitalization to outpatient care."
Because of the unit's location on the Hartford Hospital campus, patients have access to an entire team of medical experts should the need arise, as well as ancillary inpatient and outpatient services.
Most importantly, the unit delivers highly specialized rehab care designed to get patients home faster and healthier.
Patients receiving care in an inpatient rehab unit typically have a length of stay of about 10 to 13 days. This is shorter than most stays at a skilled nursing facility. Readmission rates are also lower, and the nurse to patient ratio is smaller for more personalized care.
Physicians and healthcare providers benefit, too.
"Doctors have more flexibility over a patient's discharge and less worry. They can follow their patients for an extended period of time until they can be safety discharged home, " said Dr. David Monti, physiatrist and newly appointed medical director of Hartford Hospital's Inpatient Rehabilitation Unit.
Patients recovering from a range of medical conditions can benefit from inpatient rehab, but must meet certain admission requirements. These include a need for at least two of three therapies – physical therapy, occupational therapy and speech therapy – and the ability to tolerate at least three hours of therapy a day with significant potential for improvement.
"Patients diagnosed with traumatic brain or spinal cord injuries, stroke and other neurological conditions, and complex joint replacement surgery will be appropriate for this level of care," added Monti.
During their rehab, patients practice skills like grooming, bathing, dressing, feeding and other activities using new techniques and assistive devices. In the event patients have language or communication deficits, these needs are addressed as well.
The unit's state-of-the-art gym and apartment will help patients simulate these everyday activities in a realistic way– with the goals of building strength, endurance, balance, coordination and mobility.
Construction on Hartford Hospital's unit, with 100% private rooms, began in February.
"We are excited to build this unit and bring a new level of care to those we serve," said Monti.
For more information on the Hartford Hospital Inpatient Rehabilitation Unit, click here.