Is this the new shape of urgent care in America, with a reception area but no receptionist and no patient paperwork, open space instead of walls, no magazines (but complimentary decaf Tazo tea) in the waiting area and oversize examination rooms?
C'mon in. But not for long: You won't spend the day waiting to hear your name called at the new Hartford HealthCare-GoHealth Urgent Care center in Avon. The new-look storefront in a shopping center at 385 West Main St.,  the former RiteAid, is the first of as many as 15 urgent-care centers in the next 18 months to be operated jointly by Hartford HealthCare and GoHealth Urgent Care, which manages close to 50 urgent-care centers in New York, the Portland (Ore.) metropolitan area and the San Francisco Bay Area — all in a casual, welcoming setting with its signature orange accents.
After a soft opening earlier this month, the 4,100-square-foot urgent-care center in Avon opened officially Thursday.
"This partnership will revolutionize the way urgent care is provided in Connecticut," says Jeffrey Flaks, president and chief operating officer of Hartford HealthCare.
That could be an understatement. Visitors to the Avon urgent care center are greeted by an electronic sign-in via mounted  tablet — are you a walk-in or did you check-in online? — swipe a driver's license and insurance card at a card-reader stationed at the reception desk, then sign a couple things. That's it, until they're summoned by a member of the medical staff. The provider can retrieve your medical system using Hartford HealthCare's Epic system and, while reviewing your prior conditions and medication list on a laptop, you can follow along on a widescreen display mounted on an examination room wall.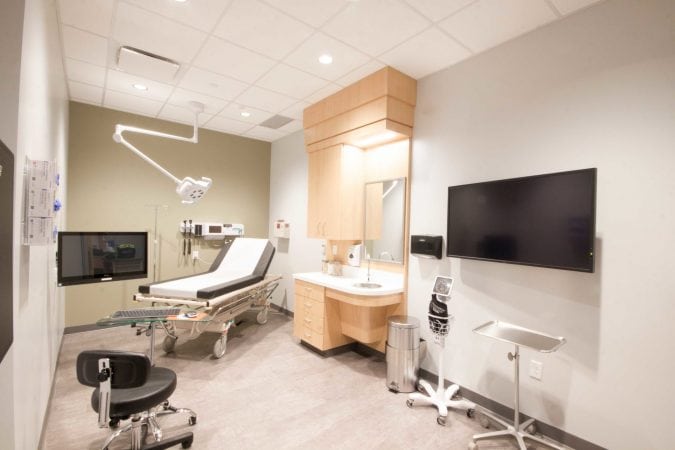 "Our customers want convenience, quality and great overall experience," says Elliot Joseph, Hartford HealthCare's CEO. "They have choices."
Hartford HealthCare-GoHealth urgent centers typically will be staffed by a physician and/or a physician's assistant, a radiology technician and medical assistants.
"Our best-in-class caregivers and team members are ready to provide a welcoming culture of care and effortless experiences that put our patients first," says Todd Latz, CEO of GoHealth Urgent Care
So what brings you here? The urgent care center is a relatively new phenomenon, kickstarted by Obamacare as a less-expensive alternative to emergency rooms for patients who need immediate care for conditions that are not life-threatening.
Some examples:
Colds
Flu
Fever
Asthma
Allergies
Emphysema
Minor skin lacerations, cuts
Burns
Urinary tract infections
Sports injuries, sprains and strains.
Hartford HealthCare-GoHealth Urgent Care centers will also provide lab services and X-rays for joint and bone injuries, using a portable machine that's wheeled into the examination room. The X-ray machine is among the features that distinguish an urgent care center from a retail clinic, which are usually staffed by nurse practitioners and offer more basic services like flu shots, vaccinations and treatment of minor wounds, joint sprains, poison ivy and other skin conditions.
The urgent care centers do not treat:
Major trauma
Chest pain
Difficulty breathing
Stroke
Head trauma
Severe bleeding
Vision loss
In any of these situations, dial 911 or visit a Hartford HealthCare emergency room immediately.
If you need care beyond the scope of the Hartford HealthCare-GoHealth Urgent Care center, whether a primary care or specialty care, your electronic records can be accessed by caregivers in the Hartford HealthCare network.
The new Hartford HealthCare-GoHealth Urgent Care center at 385 West Main St. in Avon is Monday through Friday from 8 a.m. to 8 p.m. and Saturday and Sunday from 9 a.m. to 5 p.m. Call 860.777.1280 or check in online by clicking here.
Health News Hub correspondent Gina Chamberland contributed to this story.