What does the Super Bowl have in common with Christmas, birthdays, anniversaries and weddings?
A lot of food that might not be good for you.
Root for your favorite team — and let's assume that's the New England Patriots — but make sure you handle the gastronomic temptations wisely.
Here's how:
• Do not allow a Super Bowl party to be your license to overeat.  Instead, it is a time to socialize and actually watch the game.  Make a point to talk to nearly everyone before that first bite.
•   Be sure to eat a healthy breakfast and lunch before attending the party later in the day.
•   To set the right tone for the day — it is a sporting event, after all — go for a walk or visit the gym before going to the party.
•  " Banking" calories from previous  meals doesn't work. You don't want to feel uncomfortable after eating too much or eating too many high fat dishes at the party.
•    When planning a Super Bowl party, do not prepare too much food. Be careful to give away leftovers to your guests.
•    One way to be sure there is some healthy food available is to bring some. Vegetable and bean dishes, hummus dip or a fruit and cheese platter are great choices that will be appreciated. Try out a new recipe; be adventuresome.
•    If you are going to drink alcohol be careful how much you drink. Always have a hydrating beverage like water, seltzer or infused water before and after a drink. Cider hot or chilled is a nice option for everyone as well. Remember how drinking can affect your food choices like letting your guard down and overeating. Alcohol has calories too!
•   Be very selective of items you choose to eat. Look at the entire buffet before you start to eat. Always look for lean protein foods and vegetables and those few items that are important to you.  Do not waste calories on everyday foods like rolls or pasta or graze mindlessly on chips.
•   Leave some food uneaten on your plate.  Dispose of it promptly.
•    Do not linger near the buffet table after eating.  Help the host clean up or make coffee instead.
•   Remember foods that need to be refrigerated cannot be left out for more than two hours. Do not be tempted by food left out all night.
•    Practice being pleasantly assertive to hosts who insist that you have more to eat or drink.  Find other ways to compliment your host:  "Everything was delicious, I can't possible eat anymore. But I would love to have another cup of coffee."
•     Eat very slowly, putting utensils down often. Be a good listener at the party and chew your food very well.
It's Never Too Late For a New Year's Resolution
•    Keep a food and exercise log for a month to become more aware of what you doing. Make a plan at the end of each day for the next day.
•   Wear a pedometer and keep track of your steps. It can be very motivating as you gradually increase your steps week by week.
•   Do not expect perfection after the holiday (and football) season but do expect to get right back on track as soon as possible by eating properly and exercising. Remember how much healthier you are!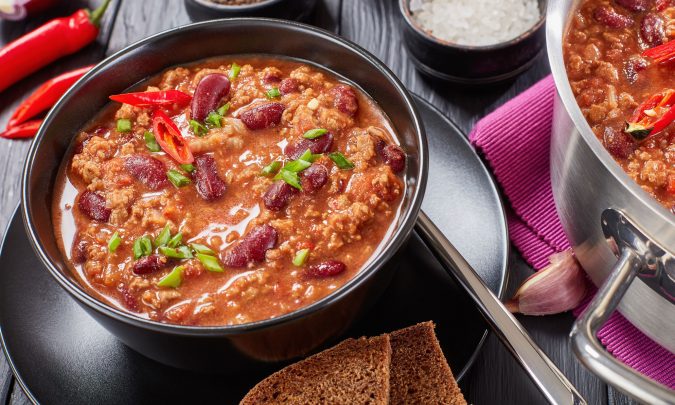 Super Bowl Turkey Bean Chili Recipe
Here's a delicious, nutritious chili recipe guaranteed to be a winner at your Super Bowl LII party. (Adapted from the kitchen at Jerome Home.)
Ingredients
1 lb. ground lean turkey
1 leek, diced
1 yellow onion, diced
1 of each: yellow, orange, green & red pepper, diced
3 garlic cloves, minced
1 large (28 oz.) can diced tomatoes
1 small can of green chilies
1 bay leaf
Chili powder – to taste
Cumin – to taste
1 can of black beans
1 can of kidney beans
1 can of cannellini beans
1 can of garbanzo beans
Toppings:
Bunch of scallions
Greek plain yogurt
Hot sauce
Directions
Brown turkey in a Tbsp. of olive oil. Remove from pan.
Sauté leek, onion, peppers in the same pan for about 3-4 minutes. Add minced garlic and continue to cook on low until vegetables are tender for about 7-8 minutes
Stir in diced tomatoes, tomato puree, green chilies, bay leaf, and spices.
Drain and rinse all beans and add.
Add cooked turkey and simmer for 45-60 minutes on low.
Notes: Served over roasted spaghetti squash or sautéed butternut squash "zoodles"( available fresh or frozen). Add a dollop of plain Greek yogurt, snipped scallions and hot sauce to your liking.
Mary Noon is a registered dietician and nutritionist at Hartford Hospital. For more information or to schedule an appointment, please call Hartford Hospital Outpatient Nutrition Counseling at 860.972.2604.