Here's the recipe, a Mediterranean-inspired eggplant appetizer, made in the new kitchen at the  Hartford HeathCare Bone & Joint Institute at Hartford Hospital during a recent visit from WNPR's "Food Schmooze." (Read more about the show here.)
This light dish, as noted during the show, is recommended as a fresh appetizer, starter or alongside a grilled steak, pork chop or fish.
Eggplant Rounds with Goat Cheese and Herb Salsa
Servings
4 people (as a starter or a side)
Ingredients
For the rounds
1 medium eggplant
2 tablespoons olive oil
 Olive oil spray
 salt and pepper
2 medium tomatoes diced
1/3 cup crumbled goat cheese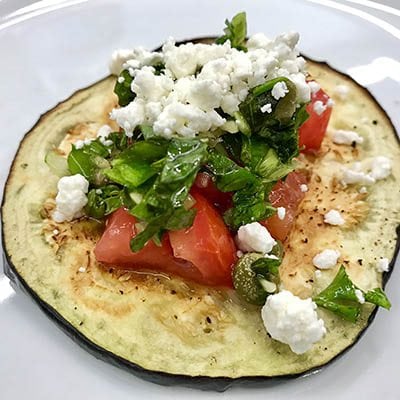 For the herb salsa
2 green onions finely chopped
1/2 cup parsley minced
1/2 cup basil minced
2 tablespoons capers rinsed
2 teaspoons lemon zest
1 clove garlic minced
 freshly ground pepper
1/2 cup extra virgin olive oil
1 tablespoon freshly squeezed lemon juice
Note: The recipe makes approximately 1 cup. Save leftover salsa for other vegetable and meat dishes.
Instructions
Slice eggplant into 3/8th-inch-thick rounds. Sprinkle with salt and set aside for 30 minutes.
Combine all salsa ingredients together, reserving the lemon juice to add just before serving.
Remove goat cheese from refrigerator.
Blot dry the eggplant after 30 minutes.
Line a large sheet pan with foil and spray with olive oil.
Brush both sides of eggplant with 2 tablespoons of olive oil, and season with ground pepper.
Arrange in a single layer on the pan.
Broil in oven for approximately 5 minutes turning, once lightly marked. Turn over and broil other side for 5 more minutes. Eggplant should be tender.
Arrange warm eggplant on a platter, sprinkle with crumbled goat cheese. Add chopped tomatoes and top with a generous amount of herb salsa.
Nutrition per serving: Calories: 284; Total Carbohydrate: 11g; Protein: 6 g; Fat: 24g ; Saturated fat: 6.5g; Polyunsaturated fat: 1.8g; Monounsaturated fat: 14g; Fiber: 3.5g; Sodium: 180mg; Potassium: 383mg.