A man in Texas pled guilty to hate crime charges after using a dating app to target gay men. A man in Alaska pled guilty to threatening a Los Angeles Synagogue. Three Georgia men were charged with hate crimes in the death of Ahmaud Arbery, a black man killed while going for a jog.  A 75-year old Asian woman was punched in the face while walking down a street in Queens.
This all happened within the past month. Unfortunately, it's an abbreviated list. Hate crimes in the United States, and across the globe, are on the rise.
The latest tragedy occurred in London, Ontario, where a man is accused of deliberately driving his pickup truck onto the curb, striking a family of five. Four of them died. The youngest is hospitalized. They were going for an evening walk. Officials say they were targeted because they were Muslim.
So where do we go from here?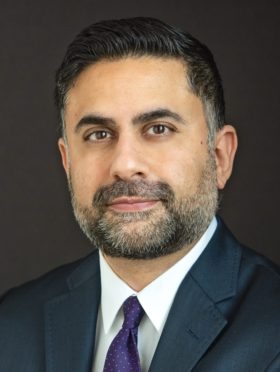 "Where we need to go is staring this down. We can't address what we can't name," said Dr. Javeed Sukhera, incoming chair of psychiatry at the Institute of Living and chief of the Department of Psychiatry at Hartford Hospital. "We need to appreciate that there is a culture of denialism and avoidance when it comes to hatred within our midst. The cost of being silent about that is too high. So many times, for me personally, there are things I have been told I shouldn't say because they make people uncomfortable. I just don't think that's OK anymore. So let's start by naming it."
This latest act of hate hit especially close to home for Dr. Sukhera. The victims were among the first families he met when he moved to London.
"For me as a leader in a community, a new leader coming into an organization, someone who is passionate about issues of inequities and bias, who has lived it… it's an entirely different conversation when someone I know is murdered for being who they are… just down the street," said Dr. Sukhera.
While crimes such as these are easy to spot, Dr. Sukhera said he believes it's the "subtle" racism that poses one of the biggest challenges.
"Everyone can sit at a moment like this and think, 'what a horrible and heinous thing. That's so hateful. That's not me.' But what is harder for people to realize is that we all play a part in the subtle racism that exists in our organizations," said Dr. Sukhera. "It comes from people having a hard time when someone who has experienced racism actually talks about it. We are put in these spaces where we are not allowed to say certain things, and censor ourselves and code-switch all the time. Then we are not allowed to talk about toll that takes, the emotional burden."
During this week's UConn Health Disparities Institute "The State of Health Equity Among Boys and Men of Color" virtual summit, Dr. Sukhera spoke about the need to create brave spaces where people can feel comfortable being their authentic selves.  Behavioral Health Network Physician-in-Chief John Santopietro said he hopes Dr. Sukhera can help further open those forums here as he joins the system.
"He is an extraordinary leader in the community.  What really shines through when you hear him speak, including about this recent tragedy which hit close to home, is that Dr. Sukhera was built for this," said Dr. Santopietro. "His life's work in scholarship, education, and system transformation around health equity, anti-racism, anti-discrimination work, makes him the right person for this moment. His decision to come here is very much a statement about Hartford HealthCare's investment in diversity, equity and inclusion."
Dr. Sukhera said that when it comes to diversity, equity and inclusion, every person and group must feel like their life is as valuable as the next. This is something, he added, that is not always seen. It is, however, something that can lead to hard conversations and something he plans to bring to Hartford Hartford HealthCare.
"This tragedy is a perfect example of how some individuals' humanity matters less than the humanity of others. Four people were murdered because they were Muslim. If the perpetrator was Muslim, Anderson Cooper would probably be in my back yard. It would garner national attention. The entire narrative would be different," said Dr. Sukhera. "I think it's important to talk about that.  I am going to talk openly about these issues when I join the organization.  I also hope that as an incoming leader, others talk openly with me. I want to hear people who themselves feel that they don't matter, that they are treated inequitably, or like a second class, or rendered invisible. It's only by sharing those stories that we can imagine one another's reality and work towards something better."
---