When coping with a chronic illness such as cancer, patients and their caregivers can experience a range of complex emotions. Expressive arts and other forms of integrative medicine can be an important resource for people to learn coping strategies, express their feelings and help process experiences during early diagnosis, treatment and throughout recovery.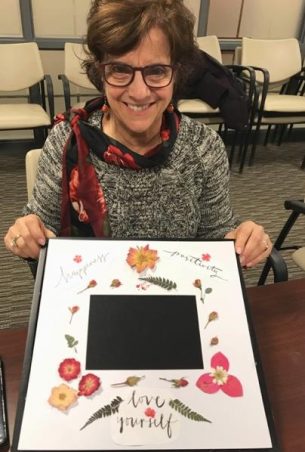 With the generosity of the Zoe Foundation for Infusion Art Therapy, the Hartford Hospital community can incorporate creative expression into healing and wellness. The ART for Healing program assists patients and caregivers by offering Expressive Arts Workshops and Art Therapy Support Groups, as well as individualized and group art sessions within oncology units at the Hartford Healthcare Cancer Institute at Hartford Hospital.
Since 2010, The Zoe Foundation for Infusion Art Therapy has helped provide our patients with quality care, art sessions at no additional cost and necessary art supplies. ART for Healing applies all forms of expressive art, including sound healing, movement therapy, play therapy, therapeutic music and art-making.
The Zoe Foundation for Infusion Art Therapy supports nine expressive arts teachers, all providing unique and inventive community classes throughout the hospital and at several Hartford Healthcare satellite locations. The creative process gives many participants  hope and strength as they confront the trials of treatment and recovery.
Thanks to the weekly art sessions, people experience reduce physical pain and tension, as well as lower levels of stress and anxiety.
For more information on the ART for Healing program at Hartford Hospital, click here.